Nokia Networks
MBit Index study in India shows an overall 74% increase in mobile data traffic (
2G and 3G mobile broadband)

in 2014, compared to the beginning the same year. This rise was primarily driven by a strong 3G growth with 114% increase while the 2G data traffic growth was reported to be 41%.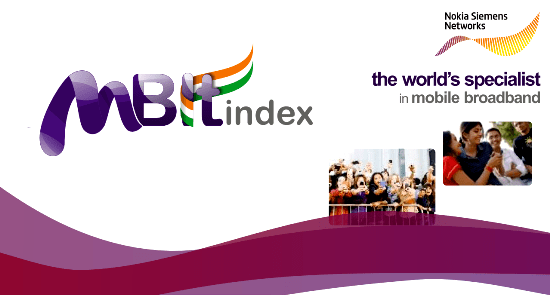 On an average, a 3G subscriber consumes over 3 times more data than a 2G subscriber. Use of 3G devices capable of supporting a speed of up to 21.1 Mbps increased from 23% in 2013 to 54% in 2014.
According to the study,
3G data consumption was 52% of the total data consumption in December 2014 as against 42% in January 2014.
September 2014 witnessed 3G data consumption surpassing 2G use across India. On an average 3G data use increased to 688 MB per month in 2014, indicating a 29% jump compared to 2013. On an average 2G data use also increased to 216 MB per month, indicating a 48% jump, and improvements in 2G network quality for mobile broadband access.
Sandeep Girotra, Vice President and Head of India Region, Nokia Networks, said: "The 2014 study results clearly show the strong momentum of 3G in India, which has been the primary driver for the data traffic growth. A surge in 3G and 4G compatible Smartphone use underlines the greater need for operators to expand the 3G network coverage and selectively rollout 4G services for higher speeds across all the circles while modernizing the existing 2G networks."
In 2014, the growth of mobile broadband traffic in India prompted many operators expanding their 3G and 4G networks.
Although 4G in India is in its early stage, the country already has 5.5 mn 4G capable devices but only about 85,000 subscribers are active LTE users. It indicates another significant opportunity for selective rollout of 4G networks and services in the country.
Dear readers, please share your views about this exponential growth in mobile data traffic in India via comments with us.