Facebook in association with Reliance communications, launched the global Internet project called internet.org in India. The project, which was globally announced in August last year, aims to bring Internet connectivity to the two-thirds of the global population that is not connected to the internet.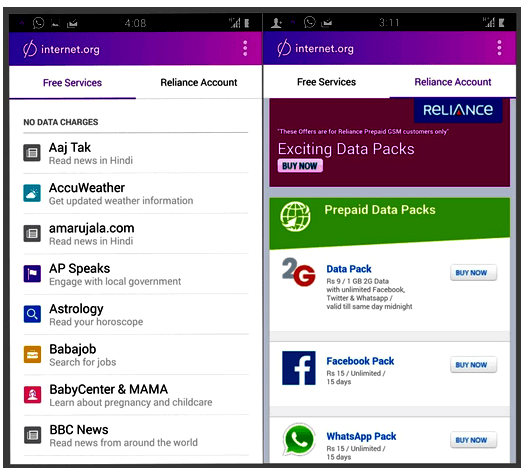 The internet.org services had just gone live in 6 telecom circles in India. It includes Gujarat, Mumbai, Maharashtra, Kerala, Andhra Pradesh (Including Telangana) and Tamil Nadu(Including Chennai). The services will start in the remaining circles soon.
The founding members of internet.org are Facebook, Ericsson, MediaTek, Nokia, Opera, Qualcomm and Samsung.
Reliance communications subscribers in these circles if using Android smartphones can download the internet.org app from the play store while Windows, iOS, and feature phone users need to visit the internet.org website from their default web browser. All activity within this app or website while on Rcom network will be completely free of data usage charges.
There are a total of 38 web services which are being offered free of charge to the users of internet.org on Rcom network which are listed below:
Aaj Tak – Read news in Hindi

AccuWeather – Get updated weather information

amarujala.com – Read news in Hindi

AP Speaks – Engage with local government

Babajob – Search for jobs

BabyCenter & MAMA – Learn about pregnancy and children

BBC News – Read news from around the world

Bing Search – Find information

Cleartrip – Check train and flight schedules & buy tickets

Daily Bhaskar – Read local news

Dictionary.com – Search for meanings of words

ESPN Cricinfo – Get cricket updates

Facebook – Communicate with friends and family

Facts for Life – Find health and hygiene information

Girl Effect – Read articles and tips for girls

HungamaPlay – Listen to music

IBNLive – Read news

iLearn – Learn from Women Entrepreneurs

India Today – Read local news

Internet Basics – Learn about the basics of the Internet

Jagran – Read local news

Jagran Josh – Get education and career information

Maalai Malar – Read news in Tamil

Maharashtra Times – Read news in Marathi

Malaria No More – Learn about malaria

manoramanews.com – Read local news

Messenger – Send messages to friends and family

NDTV – Read news

Newshunt – Read news in English

OLX – Buy and sell products and services

Reliance Astrology – Read your horoscope

Reuters Market Lite – Get farming and crop information

Socialblood – Register to donate blood

Times of India – Read news

TimesJobs – Search for jobs

Translator – Translate words and phrases

Wikipedia – Find information

wikiHow – Find information
Most of these services have links to apps outside of internet.org and the user will be shown a popup notification saying that they are now leaving internet.org and basic data charges will apply if they choose to continue.
Facebook and Reliance Communications are using internet.org as a platform to increase their subscriber base and revenue. By offering these services for free, they are trying to tap the revenue from that segment of mobile users who have not opened up to paying for data services yet.
Later, customers of internet.org services may be tempted to use additional services which are not included in the free package. This may also be considered as the first step towards net neutrality violation. It is because, itnernet.org is not providing complete Free access to Internet Services. They are just restricting the internet access of customers to a limited set of services. Those who wish to access other websites need to pay additional charge for it.
Dear readers, please share your views about the Free Internet Offer from Internet.org in association with Facebook & Reliance Communications.