Samsung is no longer the largest smartphone vendor in India. According to a new report from the research firm Canalys, Indian budget smartphone maker Micromax has surpassed South Korea's Samsung Electronics Co Ltd to become the largest smartphone brand in India.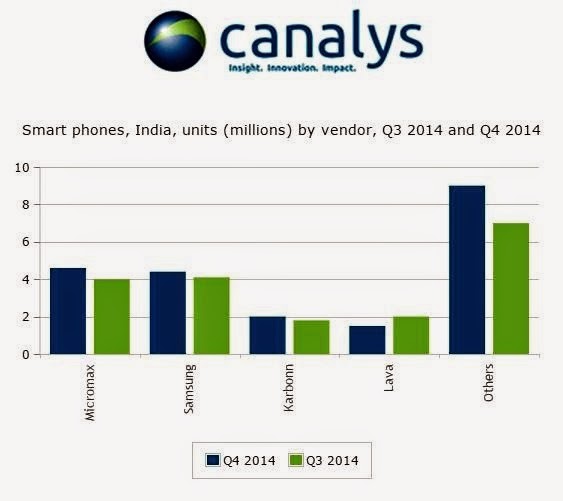 According to the report, Micromax captures 22 percent of market share compared to Samsung's 20 percent during Q4 2014. This is the first time an Indian smartphone brand has taken the top spot. Micromax and Samsung were followed by two other Indian budget smartphone brands, Karbonn and Lava.
Canalys Analyst Rushabh Doshi sa

id,
"Canalys believes catering to local market preferences will become increasingly important. Micromax has been quicker than its competitors to improve the appeal of devices, for example, by including a wide variety of local languages on its Unite phones. Lava, another domestic vendor, has launched devices that cater to the preference for greater battery life – in this case a couple of days. But vital to success is selling these handsets at low price points to appeal to the bulging mid-level income market in India."
Micromax's performance was partly due to its "continuing appeal to mobile phone users upgrading to smartphones", Canalys said. It estimated nearly a quarter of smartphones sold in India in the fourth quarter were devices priced under Rs. 6,100, while 41 percent of devices sold were in the price range Rs. 6,100 – Rs. 12,200.


India, which has the world's second-highest number of mobile phone accounts after China, is the third-biggest market by number of smartphones sold. Low-priced smartphones are the top sellers in a country where many buyers are upgrading from feature phones.
Dear readers, please share your views about this wonderful performance by the Indian Mobile Manufacturer Micromax via comments with us.