There is a misconception among various customers that the freebies of Voice STV 135 has been charged on Per Minute basis in BSNL Kerala Circle after IN Migration. Now the BSNL authorities informed that, the freebies of STV 135 is being charged per second basis only, since its inception in Kerala Circle.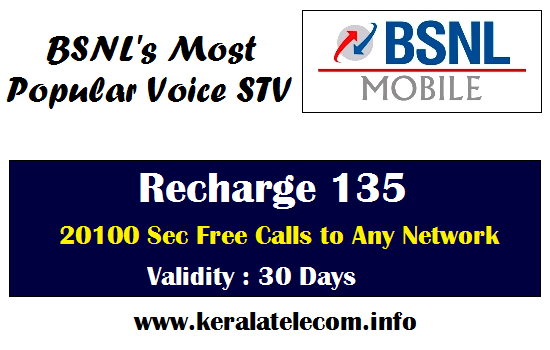 Earlier this year, BSNL Corporate Office has given
instructions

to all telecom circles to configure the Voice STV 135 in Per Minute charging pattern.
Kerala Circle has taken up this matter
with the Corporate Office
to permit Kerala Circle to continue per second charging the freebies of STV 135.
As per the BSNL sources, there is no change in charging pattern in STV 135 and it is being charged per second basis only.
Voice STV 135 is the most popular Recharge Offer in Kerala Circle, which allows Prepaid Mobile Customers to make 20100 Seconds (335Minutes) Free Local / STD Calls to Any Network in India for 30 Days.
SMS Activation Procedure of VOICE STV 135
SMS activation facility of STV 135 is also available for Prepaid Mobile Customers. Customers who has got sufficient prepaid account balance may send sms in the format – STV space VOICE135 to 123
See SMS Activation Short Codes for Other STVs below:
See other Local/STD Calling STVs from BSNL Kerala Circle below:
Dear readers, please share your views about this customer friendly move by BSNL Kerala Telecom Circle.