India's National Telecom Backbone Bharat Sanchar Nigam Limited (BSNL), launches a new toll free short code – '155218' to Aster Medcity Hospital (Cheranalloor, Kochi, Kerala) Helpline. Aster DM Healthcare was founded in 1987 in Dubai, United Arab Emirates.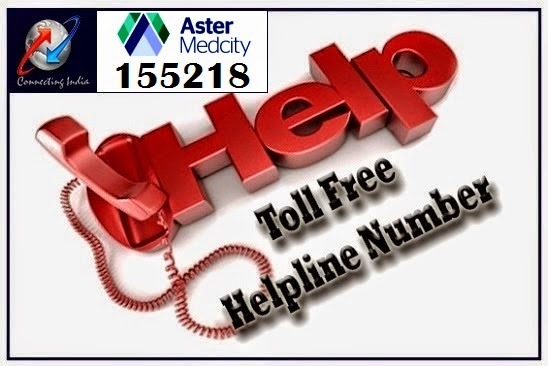 Azad Moopen is the chairman and managing director of Aster DM Healthcare.In 2011, they opened their first medical centre in

Sharjah

, UAE.

Aster Medcity – the most advanced healthcare facility in South Asia being set up in Kochi, Kerala.
BSNL opened this new short code as per the directions of DOT as aCategory-1 Service. This new short code – 155218 is available from all States & union territories of India.
The short code 155218 will be opened in all Local Exchanges, TDM Tax / IP Tax / Soft Switches / Mobile MSC / GMSC / WLL MSC of all Telecom circles. STD code + 155218 will also be opened for inter-circle calls.
As a Category-1 service, this service may also be introduced by other service providers in India. Aster Medcity Hospital Helpline Number '155218', is available across all circles and the calls from other service providers may be routed to BSNL as per existing inter connect agreement charges.
Features of Aster Medcity Hospital Helpline Number 155218 are :
Category-l service ( i.e. mandatory service to be provided by at the Access providers )

Accessibility: Un-restricted, i.e. available on STD also

Metered Service: Called party pays.
Recently, BSNL opened the following new toll free short codes as per the directions of DOT in a similar manner.
This is really a good move by DOT & BSNL and we may hope these new helpline numbers will be very much helpful to ordinary people in India.