The new CMD of BSNL, Shri.Anupam Shrivastava told – the sate owned telecom PSU, BSNL will start making profit by 2018-19 with main focus on Data Services. There is an investment plan of Rs 39,000 crore over the next five years to expand BSNL's core network and reviving the public sector undertaking in the next three years.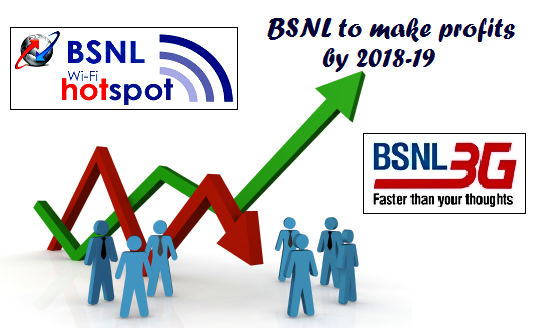 His first priority is to change the direction of the company in such a way that losses are reduced year after year and there is enough compensation on depreciating assets. BSNL has been making losses mainly because of depreciation of assets and administrative costs, which account for 55 per cent of our revenue.
Regarding the revenue streams, Mobile services contribute Rs 13,500 crore, of which 10 per cent comes from the data segment and is consistently rising. From broadband services, the company earn Rs 7,500 crore. The PSU expects revenue from combined data and broadband services of Rs 15,000-16,000 crore in the next three years.
"We have already invested Rs 4,084 crore in improving and expanding the mobile services. We are in the process of upgrading our core network. Purchase orders were placed last year and the network started rolling out in June. Almost 75 per cent of the project has been completed in the north and south zones. In the east, 35 per cent has been completed and work in the west has just begun"
, Shri.Anupam Shrivastava told.

He also told, "We have a big landline base and with a huge copper cable and fibre network the focus shifts to Wi-Fi. We will offer Wi-fi hotspots wherever commercially viable and offer an experience similar to 4G services. Also, we plan to launch our 4G service by 2016. The idea is to integrate Wifi with our mobile network to provide users a seamless experience of 3G and Wifi services."

"We plan to invest Rs 39,000 crore in the next five years, a major chunk of it on data. The focus is on improving core network capabilities as we intend to exploit data. This is going to be a watershed year."
Last year, BSNL's losses were around Rs 7,600 crore and in the previous year, around Rs 8,000 crore. So losses have already started coming down. let's hope BSNL's accounts to be in shape by 2018-19.