BSNL introduced Online Bill Enquiry option for it's postpaid subscribers of Landline, Broadband, Fiber Broadband(FTTH), WiMax & Mobile (CDMA& GSM) Services across India.
Now customers may download their latest Telephone Bill Online with out going to BSNL Office or Customer Service Center.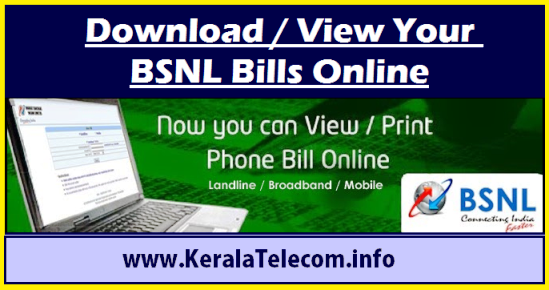 This is very much helpful in situations where the physical bill was lost or the postal bill was not received in time. Customers may download / view their bills through BSNL Portal. This facility is available to BSNL customers in all the 22 telecom circles in India.


The online bill enquiry portal is quite simple and easy to use. The portal will fetch duplicate bills for your

Landline / Broadband / WiMax / Fiber Broadband (FTTH) / Postpaid (GSM / CDMA) Mobile.
To download your duplicate bill, just log on to BSNL's Online Portal. Now click on the link —> 'View Bill Online' on the top of the page. After that just furnish the details and the portal will fetch the Duplicate bill for BSNL services.


Important Things to Remember while using BSNL Online Bill Enquiry Portal
If Landline / Broadband / FTTH – Select Landline / FTTH Option, Enter Landline number along with STD code (without prefixing zero) by selecting your circle. Ex:- If Trivandrum, enter as 4712500000)

If Mobile Services – Select Mobile Option and Enter 10 digit Mobile number as it is without zero or STD code.

Enter the Account Number.

Click on 'Submit' to view / download / print the bill.

For Account Number, please refer to any of the previous bills.
You will find all the generated Latest Telephone Bills for your Account Number of BSNL Landline, Broadband, Mobile,

WiMax Services
with simple steps via Online.
Dear readers, have ever tried BSNL's Online Bill Enquiry Portal? How many of you have familiar with
BSNL's Online Recharge Portal? Pl
ease share your views and opinions about these e-services by BSNL.