BSNL has launched Online Booking of Fancy Numbers through 'My BSNL App'. BSNL offers fancy / Vanity / Choice Mobile numbers at Cheapest Price to customers across India. Now anyone can easily book Vanity Numbers online through their Smartphones.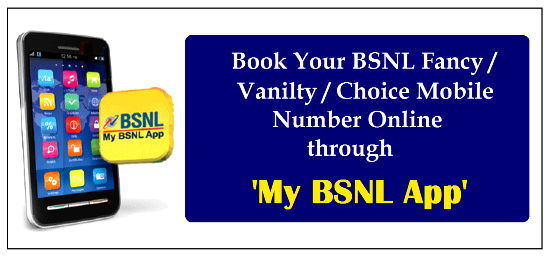 BSNL already offers Fancy Numbers booking through website. To maximize the sale
of Fancy Mobile Numbers and to increase the reach of BSNL services to
customers, BSNL has launched online booking for
Fancy Mobile Numbers through My BSNL App.
Now BSNL Fancy Numbers can be searched / booked with My BSNL App in your Smartphone. Which allows you to select the fancy numbers with in your phone and go ahead for paying for your favorite number.
My BSNL App is available for Android, Windows & iPhone Users. Customers who installed older version of App may update to the latest version of My BSNL App which is available on Android Play Store, Windows Store & iTunes.

Procedure to Book Fancy Numbers through 'My BSNL App'
Click on Fancy Nos & Select Circle

Select Fancy Number Format, which allows users to allow a choice of number begins, ends, contains and sum of total number.

Then all the Fancy Numbers will be shown along with their rates on your screen.

Select a number which is most attractive from the list and Confirm the selection by giving your contact mobile number.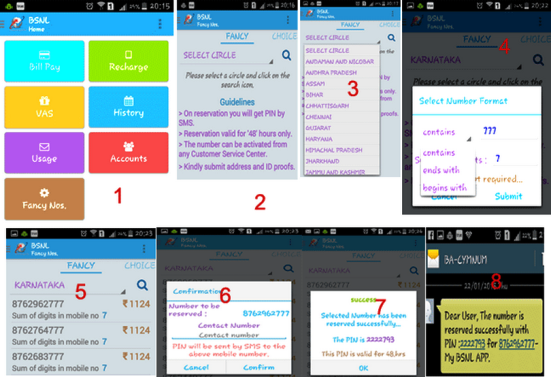 You will get a PIN for successful reservation of the Fancy Mobile Number.

You will also receive a text message having details about the Booked Fancy Number.

Then approach any nearest BSNL Customer Service Center along with your Valid Proof of Identity and Proof of Address for activation of BSNL Fancy Number Activation instantly.

Customers may select any of the available BSNL Prepaid / postpaid Mobile Plan
BSNL is trying to offer fancy numbers to its esteemed customers with it's updated version of My BSNL App. Let's hope this may increase the presence of BSNL in Indian Mobile Telecom Market.
Dear readers, have you tried BSNL Choose Your Mobile Number Portal? Please share your opinion about this new initiative by BSNL for Booking of Fancy Mobile Number through 'My BSNL App' via comments.