As per the latest TRAI reports, the market share of India's National Telecom Backbone Bharat Sanchar Nigam Limited (BSNL), has reduced considerably in both Broadband and Mobile segments. India's Top Mobile Operator Bharti Airtel has became the largest Broadband Service Provider.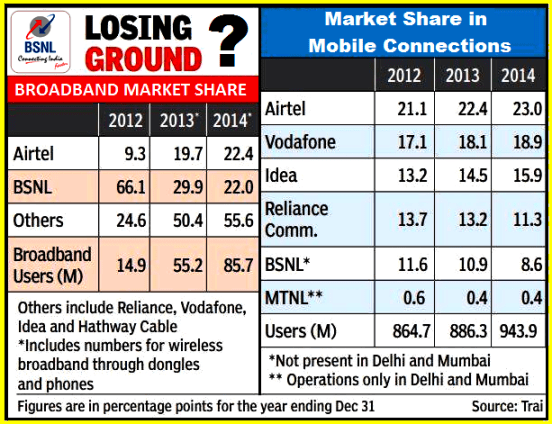 The Market Share of BSNL in Mobile Segment also has reduced to 8.6 percent while it was 11.6 percent in 2012. This happened when the overall mobile subscriber base had grown from nearly 865 million in 2012 to 944 million at the end of last year.
BSNL has been the Largest Broadband Service Provider in India with a huge market share of around 66 percent in 2012. The entry of small players like YOU Broadband, Atria Convergence Technologies, Asianet Broadband etc have grown at the cost of the PSU.
Similar situation exists in the Mobile segment also. After implementing Mobile Number Portability (MNP), BSNL has lost a large chunk of premium customers to private players. Kerala Telecom circle is the only circle which has gained customers through MNP.
As per BSNL sources, the major reason for poor quality of Service is due to the delay in the network expansion due to the delay in procurement of equipments. Joint forum of BSNL Employees have already declared indefinite strike from March 17, 2015 onwards demanding the revival of BSNL.
A major portion of BSNL revenue comes from it's Landline & Broadband business. The fall is market share will certainly affect the PSU's revenue and operations.
BSNL's New Chairman and Managing Director (CMD), Sri.Anupam Shrivastava is hopeful and he wish to turnaround the PSU with major focus on Data Services. He also said that BSNL will start making profit by 2018-19.
Dear readers, please share your views about the performance of BSNL via comments with us.