BSNL Mobile offers unmatched features not found in any other Cellular service to it's esteemed customers across India. BSNL Mobile service allows people to stay in touch with their nears and dears anywhere in India.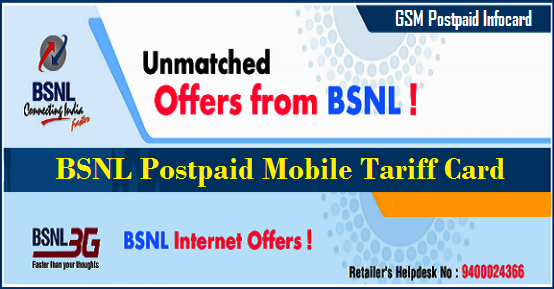 Latest BSNL Kerala Circle: Prepaid Mobile Infocard / Tariff Card: February 2015 || Updated as on 06.02.2015
Postpaid Mobile Customers shall pay their bills through BSNL Online Bill Payment Portal, which is the most easiest, secure and convenient way for payment of Postpaid Mobile Bills. Bills can also be paid through BSNL's Mobile Application – My BSNL App.
BSNL Online Bill Payment Portal also allows Postpaid Mobile Customers to download / view their bills online. The online bill enquiry portal is quite simple and easy to use. The portal will fetch duplicate bills for your Landline / Broadband / WiMax / Fiber Broadband (FTTH) / Postpaid (GSM / CDMA) Mobile.
Dear readers, please share your views about these Postpaid Mobile Offers from BSNL via comments.