State run PSU, BSNL is already conducting E-auction for Fancy / Vanity Mobile numbers through it's Online Portal to customers in all telecom circles in India. Now BSNL authorities has decided to introduce the same for Vanity Landline number also through its website.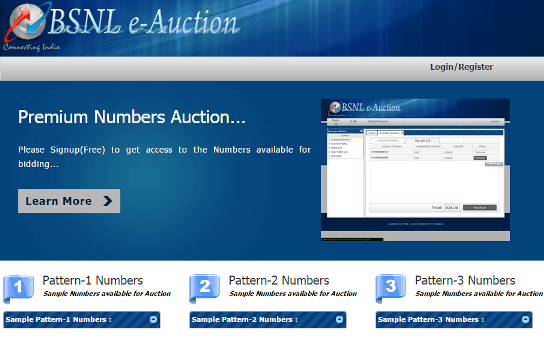 BSNL has already launched this facility for customers in Chennai and Andhra Pradesh circles. The same will be made available to customers in all telecom circles soon. To participate in the auction customers must access BSNL E-auction website and register by entering their Mobile Number & E-mail ID. The registration is completely Free.

Once logged in customer must give his complete address and nearest landline number to identify the exchange code.

Customers will get the list of available vanity number under his exchange and select a number to place his bid. Through SMS, customer will be informed if other bidders have placed higher amount for the same number.
At the end of the auction winners will be notified by Email/SMS and customer need to visit nearest customer service center with required documents to get the new connection.
The vanity numbers are uploaded by each circle to the website exchange/city wise with exchange code. Date of the auction, registration fee, and minimum bid amount will be announced by the circle.
BSNL Kerala Telecom Circle has started the 'E-Auction of Fancy and Vanity Mobile Numbers' from 14-02-2015 to 22-02-2015. See the list of numbers in the current auction and detailed news below:
Dear readers, whether this new facility will increase the Landline subscriber base of BSNL? Please share your views via comments with us.