BSNL offers CDMA Prepaid Mobile Plan – JOY for South Zone (Andrapradesh, Karnataka, Kerala, Tamilnadu) Customers with Lowest Call Charges. BSNL CDMA Mobile JOY Plan offers all Local / STD BSNL calls at
1ps/2sec and Other network calls at 1ps/sec with out recharging any Special Tariff Vouchers.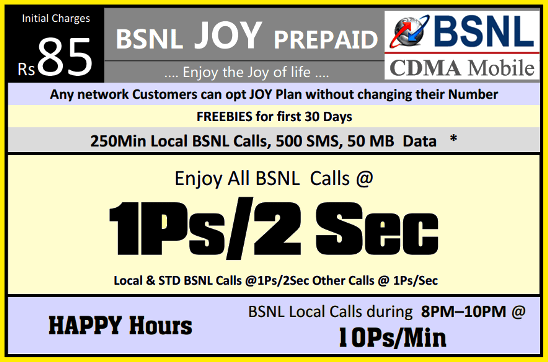 BSNL JOY Plan also offers Lowest data usage charges in Peak / Off Peak Hours and applicability of
HAPPY Hours. Customers can enjoy the cheapest call charges of 10ps/Min for all Local
Calls in BSNL Network during Happy Hours (from 8 PM to 10 PM).
Removable User Identity Module (RUIM) is a card developed for CDMA handsets that extends the SIM card facilities to CDMA phones. BSNL offers Free RUIM SIM Cards for New / MNP JOY plan customers.
The Start Up Kit (SUK) worth Rs 85 offers 250 Minutes Local BSNL Calls + 50 MB Data + 100 SMS (to Any Network) for the first 30 Days. The plan has got initial validity of 180 days also.
BSNL CDMA Prepaid Mobile Plan – 'JOY' Tariff Details
Particulars/services

BSNL JOY ( CDMA RUIM )

Total Initial cost of Plan

Rs.85/-

Free calls/SMS/data transfer, if any (included in one time charges)

250 Min. Local On-net

100 SMS&50MB Data (for 30days from the date of activation)

SIM/Account Validity

180 days

Tariff Validity (initial/promotional/base

180 days

HAPPY HOURS

BSNL Local Calls during 8PM to10PM @ 10 ps./min.

Pulse rate

sec

Call charges Rs./min

Local

On net

1 Ps./ 2Sec

Off net

1 Ps./Sec

Mobile/Fixed

On net/Off net

1 Ps./ 2Sec / 1 Ps./Sec

STD

On net

1 Ps./ 2Sec

Off net

1 Ps./Sec

Mobile/Fixed

On net/Off net

1 Ps./ 2Sec / 1 Ps./Sec

ISD

Existing Charges

SMS

Local

0.5

National

0.6

International

5

Charges while Roaming-National in ( Rs./Min)

On net/Off net

Local outgoing

0.50/0.60

STD outgoing

0.70/0.80

Incoming

0.6

SMS(Local/STD/ISD)

( 0.60 /0.60/ 5 )

Recharge /other condition, if any

Rs.41/- for Plan extension for 180 days . Freebies – 3000 secs. Local On-net, 15MB Data(to be utilized during 1st month)
Any network customers can opt this Joy Plan without changing their existing Mobile Number. See the detailed procedure to be followed for MNP:
BSNL offers the lowest EVDO Data Tariff for Joy Plan customers.
Both limited and Unlimited Usage Data STVs are available for Prepaid EVDO Customers.
Dear readers, please share your views and opinions about this excellent offer from BSNL via comments with us.