Government of India has decided to make it mandatory to link mobile SIM connections with Aadhaar number to weed out ghost users and curb the misuse of mobile phones for any terrorist act, extortion or other offences.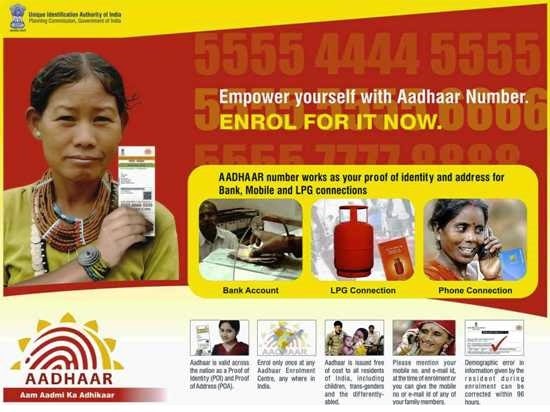 Major telecom operators –
BSNL, MTNL, Airtel, Vodafone, Reliance and Idea
, have also agreed to test Aadhaar number based e-KYC for issuing SIM cards in five circles as a pilot project.
This pilot will be conducted in Bhopal, Kolkata, Delhi, Lucknow and Bengaluru by telecom operators.
Under the proposal, a person would be able to avail a new SIM card (Mobile Connection) instantaneously by entering his/her Aadhaar number and biometrics, without needing to present a physical documentary proof. The Unique Identification Authority (UID) servers from the back-end will verify the antecedents.
With this, Aadhar number will be mandatory for one to buy a new Mobile Conncetion. Now, all major telecom companies started asking customers to submit their Aadhar number with their new connection request.
Two months ago, Department of Telecom (DoT) had asked all mobile operators to collect 'Aadhaar' number along with customer application form for issuing new connections and store the unique identification number in their database
.
DoT had also asked the operators to amend their database in two months by adding the 'Aadhaar' number. See it's details here.
However, the Home Ministry had raised multiple concerns over using UIDAI number as an address proof in the DoT's proposed online verification system, citing possible issues with the supporting Aadhaar data. It said that unlike 'Aadhaar', other acceptable proof of address documents such as passport, driving licence do not have the status of universality and therefore "even higher levels of error in these documents may not translate into comparable volume of security concerns.
The Home Ministry had also raised concern over the involvement of foreign vendors by UIDAI for storing data and has suggested audit of data security.
As per latest information, the Unique Identification Authority of India (UIDAI) has issued Aadhaar numbers to over 70 crore residents in the country. Government has set the deadline of June next year for covering the entire population under the Aadhaar project.
Dear readers, please share yur views about this new proposal by DoT and Government of India.