BSNL, is the largest provider of fixed telephony and Broadband Service provider in India. BSNL is India's oldest and largest communication service provider having footprints throughout India from Kashmir to Kanyakumari. The primary focus of BSNL is on social responsibility rather than profit.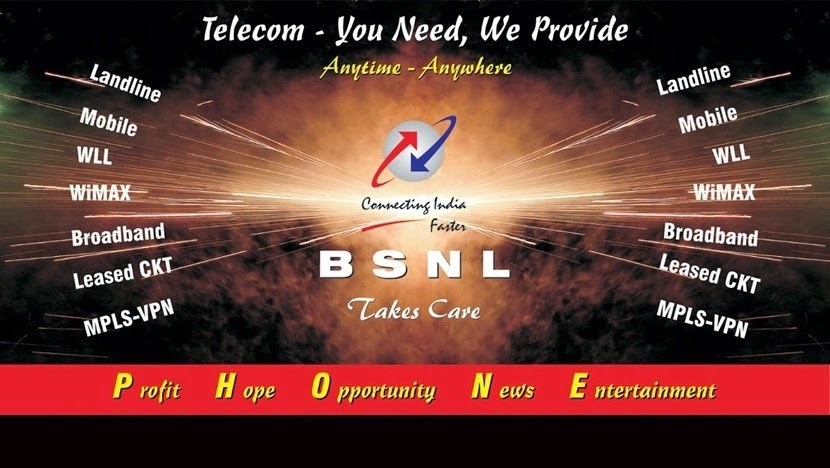 BSNL provides almost every telecom service in India by having largest market share for fixed telephony and Broadband Services with biggest Optical Fiber Network in India. Now let's talk about, why should we choose BSNL as our preferred telecom operator ?

Salient Features of BSNL – India's National Telecom Backbone
Lowest Tariff : assured lowest charges and tariff for all the services offered.
Transparent Billing – No hidden charges.
India's Fastest Broadband ( upto 24Mbps) at least cost. BSNL provides Broadband services in the rural remote areas where private telcos are not willing to provide services.
BSNL Mobile has PAN – India presence in all the 24 telecom circles and 2 Metro Districts ( In Delhi & Mumbai, BSNL provides services through roaming agreements with MTNL) in India. BSNL Mobile provides Widest 3G Coverage with Seamless Roaming for Every Nook & Corner by covering all Villages, Cities, entire National & State Highways, Railway routes across India.
BSNL also has International Roaming Services to more than 300 networks across the world with lowest tariff rates.
BSNL is the only one Total Telecom Solution Provider in India with Widest Technology Covering the entire Spectrum of Telecom Services, i.e. Landline, Broadband, Mobile, WLL, WiMAX, MLLN, MPLS, VPN, Leased Line, VSAT, Data card 2G, 3G, EVDO & CMA.
BSNL has also offered futuristic special services to customers like IPTV, Mobile Banking, VAS, TV on Mobile, Video Calling, FTTH Services, Video & Voice CaIling Services etc. Thus BSNL acts like a Single Window Telecom Service provider for all the Customer Needs.
BSNL is the National Telecom Backbone for all telecom services, including value-added services such as Free Phone Service(FPH), Virtual Calling Cards (UITC / FLPP), Account Card Calling (ACC), Virtual Private Network (VPN), Tele – Voting, Premium Rate Services, Universal Access Number (UAN) etc.
BSNL Provides Service to all – from Common Man to Large Corporations, Defence, Space Agencies etc., and also provides Total Telecom Solution to all Leading Banks, Educational Institutions, Universities, Major Corporates & IT giants.
BSNL provides Telecom Services even in Rural and far flung areas which are commercially non-viable proving clearly the Social Commitment.
BSNL earnings goes mainly for country's Infrastructure Improvements & Nation Building and which in turn is utilized for providing Basic Amenities, Health & Education for Poor and Downtrodden.
If you agree with the above points, Do not hesitate to join BSNL family and Subscribe to BSNL Services (Mobile, Broadband, 3G, WiMax, EVDO, CDMA etc. for all your telecom needs) and thereby contribute to National Growth. BSNL is reliable, Inexpensive, Transparent and finally It is truly "INDIAN". Feel Great to be an"INDIAN" and Feel Proud to be a "BSNL-Customer"
Dear readers, what do you think about the above points ? How many of you are currently using BSNL Services? How do you feel about their service / tariff ? Please share your experiences with us.