After commissioning
a New IN (Intelligent Network) by BSNL Kerala Telecom Circle, the existing USSD short codes for prepaid balance enquiry, STV balance enquiry etc. were
changed. BSNL has upgraded it's network elements to the latest version through the GSM Phase VII expansion project.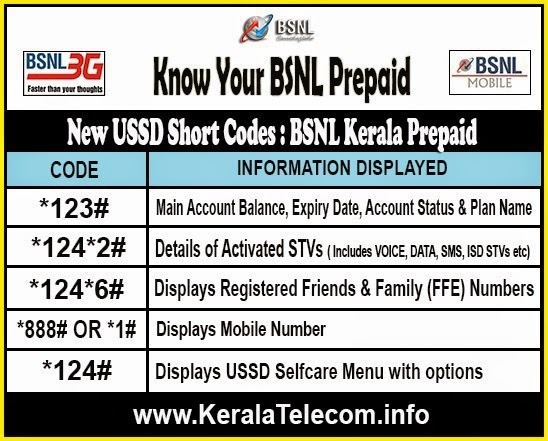 BSNL has also introduced new USSD Selfcare Option for it's Prepaid Mobile customers which enables them to activate STVs, Change Tariff Plans, Change Friend & Family (FFE) Numbers etc. through USSD commands.
Prepaid Mobile customers of BSNL Kerala telecom circle may easily know the details of Main Account balance, Voice STV balance, Data balance, Friends and Family Numbers, SMS balance enquiry etc. by dialing these short codes.
The major changes are in the prepaid stv balance enquiry short code, SMS Key words (SMS short codes) and the SMS number for the activation of STVs through SMS.
The current number 53733 has changed to 123 for SMS activation of STVs.
Prepaid STV balance enquiry short code will be *124*2# for all STVs (ie. for VOICE, SMS, DATA & ISD STVs).
STV balance details can also be obtained through SMS . To get all details regarding currently activated STVs, send sms STVENQ to 123.
However, the SMS Activation procedure for ISD facility has not changed. To activate ISD facility, send sms ACT space ISD to 53733
Accumulation of Data STVs of different denominations is not possible. Only STVs of same MRP will be accumulated.
Cumulative topup facility for validity extension is not available for New Mithram Plan. Now validity is given along with Top Up vouchers. See it's details here.
BSNL Kerala Circle GSM Prepaid Mobile Balance Enquiry Short Codes
Short
Code to Dial
(USSD Code)
Information Displayed
*123#
Main Account Balance, Expiry Date, Account
Status & Plan Name
*124*2#
Details of Activated STVs ( Includes VOICE,
DATA, SMS, ISD STVs etc)
*124*6#
Displays Registered Friends & Family (FFE)
Numbers
*888# OR *1#
Displays Mobile Number
*124#
Displays USSD Selfcare Menu with
options


Latest SMS Activation Keywords for STVs
| | | | | |
| --- | --- | --- | --- | --- |
| Prepaid Plan Vouchers | MRP (Rs) | Validity (Days) | Old STV Code | New STV Code |
| Per Second Plan | 36 | 180 | PV36 | PLAN SEC |
| Per Minute Plan | 37 | 180 | PV37 | PLAN MIN |
| Mithram Plan | 49 | 180 | PV49 | PLAN MITHRAM |
| Pyari Jodi Plan | 75 | 180 | PV75 | PLAN PYARI |
| Roam Free Plan | 199 | 180 | PV199 | PLAN RTPFR199 |
| Roaming Plan | 46 | 180 | PV46 | PLAN RTP46 |
| Jai Jawan Plan | 99 | 30 | PV99 | PLAN JAWAN |
| Annual Data Plan 1251 | 1251 | 365 | PV1251 | PLAN DATA1251 |
| Annual Data Plan 2299 | 2299 | 365 | PV2299 | PLAN DATA2299 |
| Annual Data Plan 3299 | 3299 | 365 | PV3299 | PLAN DATA3299 |


The new IN offers USSD selfcare service (through *124#) which enables a prepaid customers to check their balance, activate STVs, change the current prepaid mobile plan, Friends & Family number change etc. USSD selfcare service can be accessed by dialling *124#.
New USSD Selfcare Services for BSNL Prepaid Mobile Customers of Kerala Circle
USSD Selfcare Menu : Dial
*124#

Press 1 for balance

Main A/c balance Rs.10.0000 Exp: Date: 31/12/2014 Plan: Pyari
Jodi, Press 9 to go back to Main Menu or 0 to exit

Press 2 for Recharge
Press
1 for Voucher Recharge

Pls enter your 18 digit secret code followed by
#

Press
2 for Third party recharge
Dial
the target mobile No & secret code in <10 digit number>*<18 digit
secret code># format
Press
9 to go back
Returns
to previous menu
Press
0 to exit
Exit
Press 3 for STV
Press
1 for STV enquiry
Displays
STV details
Press
2 for STV subscribe
Please
choose STV type 1 GPRS 2 Voice 3 SMS 4 ROAM 5 COMBO 6 ISD. Enter your
choice
Press
9 to go back to main menu

Returns to previous menu

Press 0 to exit

Exit

Press 4 for Plan Change
Please Choose new tariff plan name:1. New Mithram 2 Per Sec
etc.
Press 5 for FNF
Press 1 for FNF view
On
your FNF list you have: 9443100123. Press 9 to go back to main menu or 0 to
exit
Press
2 for FNF add
Enter
the 10 digit number followed by #
Press
3 for FNF Modify
Enter
the old and new number in <old number>*<new number>#
Press
9 to go back to main menu

Returns to previous menu

Press 0 to exit

Exit
Now Prepaid Mobile Customers can also know their last CDR (Call Detailed Record) by sending the SMS key word to 123. This facility is very much helpful to individual customers to know the details about their account balance deductions.
New SMS keywords for CDR / FNF Change / Balance Enquiry…
Other SMS KEY Words

Description
SMS Keyword
For Last CDR
LAST
For Last 5 CDR
LAST5
For FNF Add
FFE<10 digit number>
For FNF Modification
FFM<OLD NUMBER><NEW NUMBER>
For Pyari Jodi Landline Add
FFL<11 digit number>
For Jai Jawan (Para Military) Add
PMF<10 digit number>
To list registered FNF
FNFLIST
To list eligible plan for migration
PLANLIST
For balance enquiry
BAL
For Voucher Recharge
RC<18 digit secret code>
Dear Readers, how many of you are familiar with these new USSD short codes? Please share your experiences with us via comments.