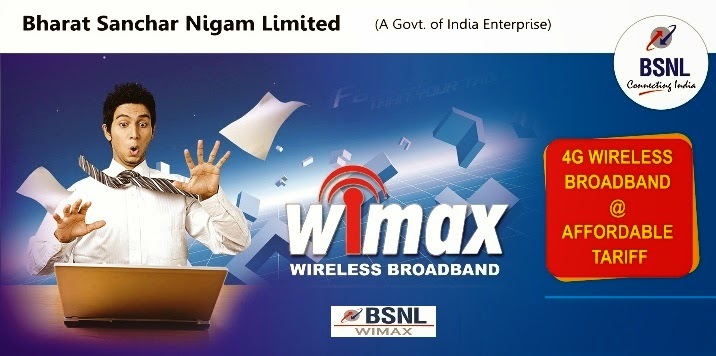 BSNL has announced five different types of Limited usage Wireless Broadband (WiMax) plans: WI-220, WI-350, WI-399, WI-750 & WI-850 which are applicable for all Home and Business users. BSNL WiMax services offers a bandwidth of 512 Kbps to 2Mbps.
BSNL has also offered two options for getting WiMax Customer Premises Equipments / Modem (Indoor, Outdoor and Dongle):
BSNL has also facilitated the WiMax (Wireless Broadband) customers to check the data usage on regular basis by sending a simple SMS, which in turn assists the customer to hold assurance on internet downloads when subscribed to Limited Data Usage WiMax plans.
BSNL WiMax Limited Usage Wireless Broadband Plans & Tariff
Plan Name
Fixed Monthly Charges
(Rs.)
Maximum Download Speed
(Bandwidth)
Free Usage per Month
Additional Usage Charges per MB
WI 220
220
Upto 2 Mbps
400 MB
30 ps/ MB (upto 5 GB)
15 ps / MB (beyond 5 GB)
WI 350
350
Upto 2 Mbps
1 GB
30 ps/ MB (upto 5 GB)
15 ps / MB (beyond 5 GB)
WI 399
399
Upto 2 Mbps
2.5 GB
Rs.100 / GB
WI 750
750
Upto 2 Mbps
4 GB
30 ps/ MB (upto 5 GB)
15 ps / MB (beyond 5 GB)
WI 850
850
Upto 2 Mbps
9 GB
Rs.100 / GB
New Customers (Home / Business) can also apply for New WiMAX connection Online. BSNL the most preferred telecom network offers world-class telecom services to customers with lowest and affordable tariff plans.
Dear readers, have you ever subscribed to BSNL WiMax Services? Whether it is stable for Business purposes? Please share your views via comments with us.