Department of posts (DOP) has started sale of Penta Mobile Phones through Post Offices all over India. DOP in association with Indian Telecom Giant BSNL and Mobile Phone manufacturer Pantel Technologies offers Multimedia mobile handsets at a discounted rate of Rs.1999/-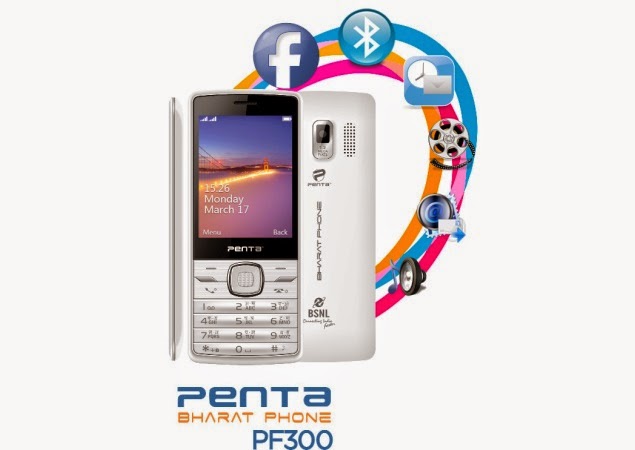 The offer also includes bundled Free Talk Time of 1999 minutes. The bundled free talk time offer is available only with BSNL SIM cards. DOP has launched this scheme as National Postal Day Offer and this scheme is available
through Post Offices all over India.

Penta Bharat Mobile Phone Specifications & National Postal Day Offer Details
Features
Technical Specifications
Model Number
Bharat_Phone_PF300
Display
3″ TFT Screen, Resolution:320*340, Color :16M
Primary Camera
1.3 MP
Battery
Li-Polymer, 1800mAh
Standby
Upto 15 Days
Internet Connectivity
E-mail, Browser, Google+
Browser
Opera
Memory Storage
RAM:64MB
ROM:64MB
Expandable Memory
Micro SD upto 8GB
Multimedia
Supports mp3, mp4, 3gp, Stereo FM Radio with Recording
Maximum Retail Price
Rs.1999/-
Free Bundled Talk Time
1999 Minutes for 1 Year
"We signed an MoU with the Department of Posts last month and will train their staff to explain the benefits of the phone," says Pantel Technologies Managing Director Vijender Singh.
BSNL was preferred for the good reach in rural areas, the decision to join hands with India Post is driven by the wide network of over 1.50 lakh post offices and 400,000 postmen.
How to Get Your Penta Mobile Handset?
Booking and sale of the device were done through Post Office counters. In case of outright sale, customer can pay Rs.1999/- in the Post Office and take the delivery on the spot. If stock is not available, customer can deposit Rs.500/- in the Post Office as a non-refundable booking amount and the remaining amount of Rs. 1999/- will have to be paid by the customer at the time of taking delivery.
Customer will have the right either to extend delivery time or seek cancellation and refund. Department can then refund advance to customer with no deduction. Department of Posts (DOP) will deduct Rs.50/- as handling charges in such a case for closing the transaction from the company.
How to Activate BSNL Free Talk Time Offer in Penta Mobile Phone?


Customers may send an SMS in the following format to 53734 in order to activate the Bundled Free Minutes available with Penta mobile phone.
SMS Format:
PENTA space BSNL Coupon Number space IMEI Number
BSNL Coupon number (8 digit alpha-numeric code) & IMEI number (16 digit alpha-numeric code) will be printed on the receipt of Penta Mobile Phone. Customers may use the second IMEI number for activating the free talk time offer.

All existing & new BSNL Mobile customers (except MNP
port-in customers) may activate this offer by sending SMS in the above
format.
Whether this bundled offer attract more customers? Please share your opinion about this bundled free talk time offer with Pantel Mobile Phones.