BSNL has started accepting the payment of Postpaid Mobile
bills

through retailer C-TopUp. Now Postpaid Mobile customers can pay their bills at their local BSNL retailer even after office hours on all seven days.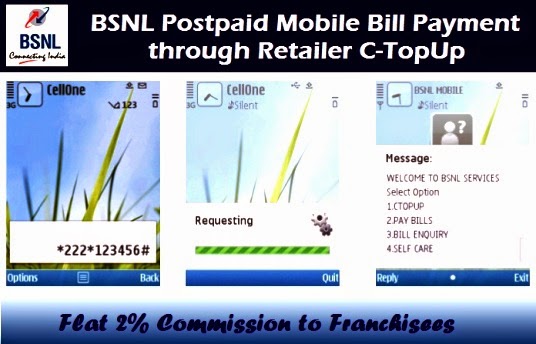 This scheme has been initially launched across all telecom circles by BSNL for a period of six months
from 1-5-2014 to 31-10-2014. Based on the feedback from field units, BSNL has decided to extend the scheme for an
another period of five months i.e. up-to 31-03-2015
Under this scheme, a flat 2% up-front commission (without any upper
capping) to Franchisees was conveyed.
Retailers who wish to accept Postpaid Mobile Bills may purchase separate stock for Postpaid Bill / CBP (Cellone Bill Payment) Wallet
.
For this, retailers may contact their Franchisee Office and they will give detailed instructions regarding the scheme & commission structure.
Post-paid Mobile
customers were already informed about this scheme through Press release, bulk SMS, Mobile bills, Websites and
Tariff cards etc. Now Postpaid Mobile customers may pay their bills through nearby retailers even after
office hours on all seven days without any hassles.
Salient Features of Postpaid Bill / CBP (Cellone Bill Payment)
Separate stock has to be taken by each dealer – one for Prepaid another for Postpaid Bill (CBP)
The CBP service is through USSD Platform (*222*MPIN#)
Commission as applicable will be added to Franchisee after transaction is done unlike upfront commission given in Prepaid wallet.
This scheme is really a good move by BSNL and it will reduce the rush at BSNL Bill Counters during payment due date. BSNL should also implement Landline Bill patment facility through retailer C-TopUp as this would be helpful to a large numbers of BSNL Landline customers across India.
Dear readers, please share your views about this customer friendly move by BSNL via comments.