BSNL launched Online Quick Recharge Portal for all Prepaid Mobile Customers across India. The Quick Recharge Portal allows customers to Top Up their Prepaid Account,
Extension of Prepaid
Plan Validity, Plan Migration, Recharge of Special Tariff Vouchers (STVs) including Data Recharge Offers etc. instantly from anywhere in the World.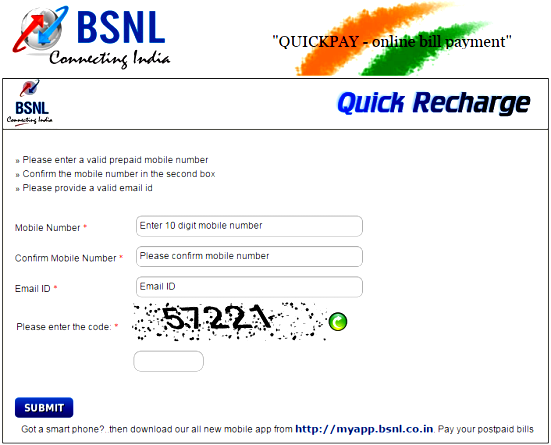 The quick recharge portal is very simple and user friendly. The Quick Recharge Portal does not require user login or registration. It will also give customers the updated list of Prepaid Offers.
BSNL has also launch
ed My BSNL App for it's customers through which one can do all the above activities from the Mobil
e Application itself.
The Online Portal will give updated prepaid offers like – Mobile Plans, Special Tariff Vouchers (STVs) which includes 3G Data Offers, SMS offers, Blackberry Offers, ISD Offers & Local/STD Voice Calling Offers etc.
How to Recharge / Top Up online through BSNL's Quick Recharge Portal ?
2.Enter your 10 Digit Mobile Number
3.Confirm that you are human by keying in code if available
4.Then you will get the screen showing Options for TOP UP, STV & PLAN
With in the Top Up option, you may select General TOPUP where you will find fixed denominations like Rs 55/110/220/550/1100 etc.

Under the Flexi Top Up option, you may select Top Up denominations in multiples of Rs 10 (from Rs 50 to Rs 5000)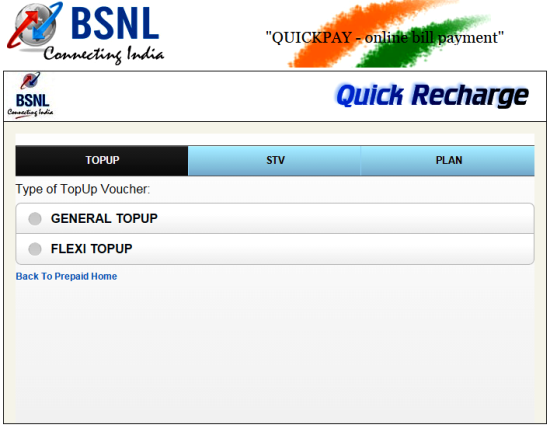 5.Under STV option, you will get different STV categories like Mobile Internet Data / Voice / ISD / SMS / Other (like Blackberry Services).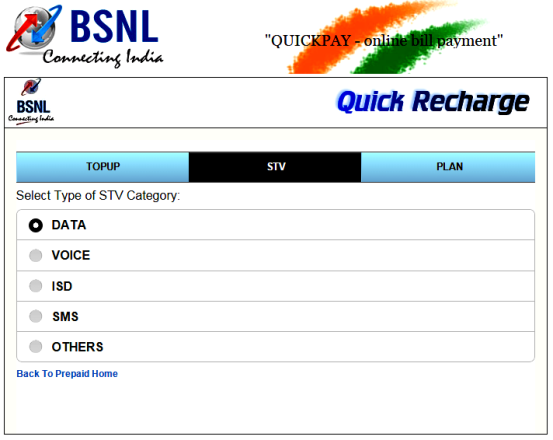 6.Under the Plan Option where you can opt for the best and latest prepaid plans and their Validity Extension / Migration options.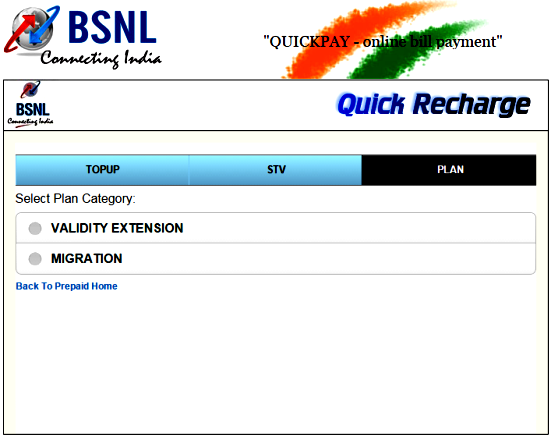 7.After selecting the required voucher, we may select the payment option. It includes – All credit cards/ Debit cards/ Netbanking/ others (powered by BillDesk)
BSNL Online Recharge Portal, is the best online recharge portal which allows the customers abroad to recharge their Friends / Parents / Relatives Mobiles at any time with latest offers.
Dear readers, how many of you have tried BSNL's Online Recharge Portal? How many of you have experienced difficulties in accessing the portal? Please share your opinions with us via comments.