India's No:1 Landline & Broadband service provider Bharat Sanchar Nigam Limited (BSNL) has commissioned New Toll Free Customer Care Numbers for Landline & Broadband Services of all States / Telecom Circles across India.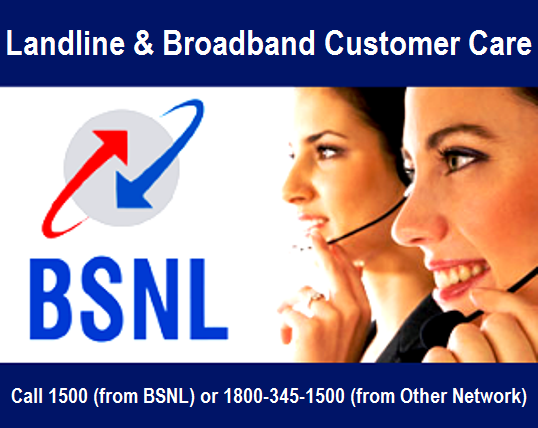 One Call Center is catering to two CDR Data center zone. Call Center at Dehradun is catering to North & West zone CDR Data Center and Call Center at Bangalore is catering to South & East zone of CDR Data Center.
These Contact centers are accessible to all the existing and new BSNL Landline and Broadband customers through Toll Free number: 1500 (from BSNL number) & 1800 345 1500 (from other operator number) for landline and Broadband service requests, complaints and queries.
BSNL Customer Care Toll Free Numbers for Landline, Broadband & Mobile Services
Service Category
Toll Free Customer Care Number (from BSNL Network)
Toll Free Customer Care Number (from Any Network)
BSNL Landline
198 / 1500
1800 345 1500
BSNL Landline Bill Information
1501
1800 180 1501
BSNL CDMA
1502
1800 180 1502
BSNL GSM Mobile
1503
1800 180 1503
BSNL Broadband
198 / 1504
1800 180 1504
BSNL MPLS & Other Data Services
1800 425 1957
These above mentioned BSNL Customer Care Numbers are common for all the customers of all the States / BSNL circles across India.
Whether these Call Centres are really helping BSNL customers to resolve their issues? How many of you have problems in connecting to BSNL Customer Care Executive through these Toll Free Numbers?