BSNL Kerala Telecom Circle has launched Smart SIM Cards for it's GSM Mobile Customers.This SIM card is essentially a Micro SIM with an adapter that will ensure that it can be used as Micro SIM as well as a Regular SIM card.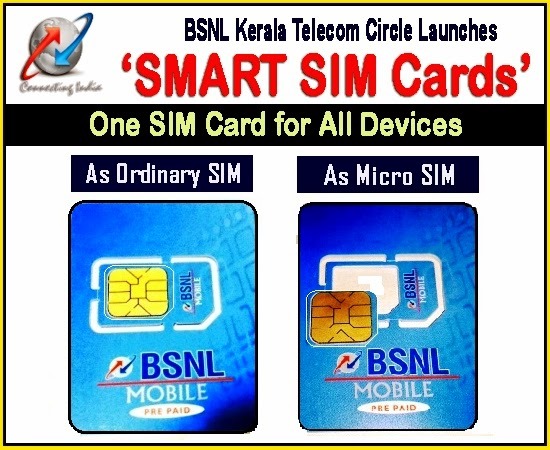 BSNL Smart SIM Card means customers can use the same SIM Card as Ordinary as well as Micro SIM Card. Now customers need not go to nearby Mobile shops to get the normal SIM cut into Micro SIM.
More and more smartphones and even budget phones are coming with micro-SIM slot(s) these days. Hence a SIM card that can be used in all devices is certainly good as consumers would prefer/need to use same SIM card on different devices for multiple purposes. Eg. On data card & on a smart phone.
There is no extra / additional cost for BSNL Smart SIM Cards. It costs just Rs.20 for Replacement / Duplicate. Any one who wish to take the latest Smart SIM may reach their nearest BSNL Customer Care with Address Proof.
There were acute shortage for SIM cards in Kerala & Tamilnadu circles. And now things have changed and BSNL authorities managed to clear the new tender for the purchase of SIM Cards.
This is certainly an excellent move by BSNL as this would be beneficial to a large number of customers who uses Smartphones with Micro SIM slots.
Dear readers, please share your views and opinions about this latest offer from BSNL.