State run PSU and India's National Telecom backbone Bharat Sanchar Nigam Limited (BSNL) has made profit in it's three territorial circles – Kerala, J&K and Odisha in 2013-14. At the same time, the company has reported an overall loss of Rs 6,933.25 crore in the same financial year.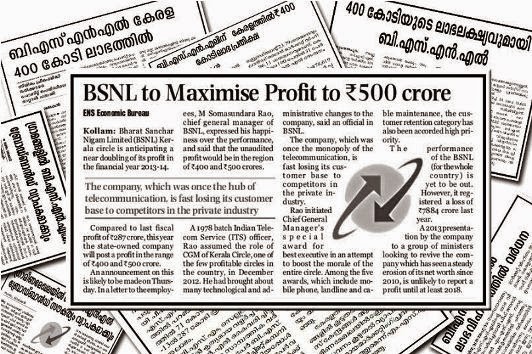 Minister of Communications and Information
Technology, Shri.Ravi Shankar Prasad has informed the Rajya Sabha about the
current financial position of BSNL
.
The PSU has made profits of Rs 396.80 crore in Kerala, Rs 9.37 crore in J&K and Rs 5.16 crore in Odisha telecom circle.
The Minister also said that, the financial support of Rs 6,724.51 crore has been provided to BSNL on surrender of broadband wireless spectrum in selected telecom circles and Rs 1,411 crore waiver on government loan granted to the company.
BSNL reported total revenue of Rs 27,996.35 crore in 2013-14 whereas total expenditure stood at Rs 34,929.60 crore.
In 2012-13, total revenue was Rs 27,127.89 crore against a total expenditure of Rs 34,900.43 and for 2011-12, the total revenue was Rs 27,933.50 crore and total expenditure was Rs 36,586.11 crore.
BSNL's provisional and unaudited loss up to September 30 for 2014-15 fiscal stood at Rs 3,785 crore. BSNL had incurred Rs 7,019 crore loss in 2013-14, Rs 7,884 crore in 2012-13 and Rs 8,850 crore in 2011-12.
Dear readers, what may be the reason for the current financial status and performance of BSNL? Whether this new Government can turn around this loss making PSU? Please share your valuable suggestions via comments.