India's National Telecom backbone Bharat Sanchar Nigam Limited (BSNL) has introduced WiMAX (Worldwide Interoperability for Microwave Access), a unique
4G technology

for the first time in India which provides high speed wireless broadband connectivity for the customers of Rural and Urban areas.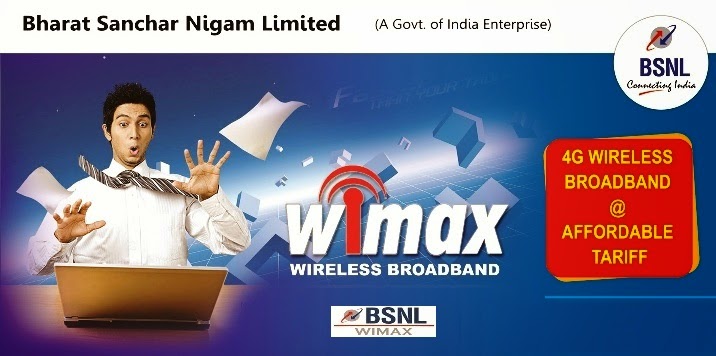 BSNL offers Wireless Broadband (WiMAX) Services with most affordable tariff plans for Home and Business customers. Customers may choose from a variety of plans as per their usage. Wireless Broadband services are very much appealing and satisfactory for all the customers of Rural and Urban areas.

BSNL Latest Wireless Broadband (WiMAX) Plans & Tariff

BSNL has also offered two options for getting WiMAX Customer Premises Equipments (Indoor, Outdoor and Dongle) Outright Purchase of CPE from BSNL at uniform rate. Payment of FMC for CPE(Customer Premises Equipment) provided by BSNL
BSNL has also facilitated the WiMAX (Wireless Broadband) customers to check the data usage on regular basis by sending a simple SMS, which in turn assists the customer to hold assurance on internet downloads when subscribed to Limited Data Usage WiMax plans.