BSNL launched
Unbilled data usage checking process

through SMS

for its Wireless Broadband (WiMAX) customers. WiMAX (Worldwide Interoperability for Microwave Access) is a wireless broadband technology, which enable the delivery of broadband internet to last mile through wireless medium.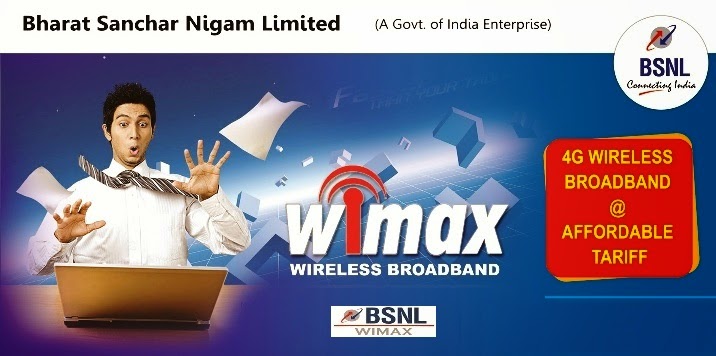 This new facility is available to all WiMax customers in all the telecom circles in India.
BSNL's WiMAX customer base is increasing day by day in Rural and Urban areas especially in Kerala.
WiMax can be used as an alternative to cable and DSL broadband.
Now, BSNL WiMAX customers need not worry about their excess data usage since this facility allows them to check their data usage by sending an SMS.
This new data usage checking process through SMS will help the customers to keep a control on internet downloads if subscribed to a BSNL Limited Data Usage WiMax plans.
SMS Format for getting BSNL WiMax Unbilled Data Usage
Sl No
Telecom Zone
SMS Format
Number
1
North Zone
Haryana, Punjab, UP(West), UP(East), Himachal Pradesh, Rajasthan, Jammu & Kashmir
WiMAX <space> user id
53333
2
South Zone
Andhra Pradesh, Karnataka, Kerala, Tamilnadu
WiMAX <space> user id
53733
3
West Zone
Maharashtra, Madhya Pradesh, Chattisgarh, Gujarat
UsgWiMAXuser id
53333
4
East Zone
Kolkata, Orissa, Bihar, West Bengal, Adman Nicobar, Assam, Jharkhand, North East – I & II
Wmxusg <space> user id
53333
Customer may note down their unique user id (WiMax user id) which will be available
in the WiMax bill. The WiMax user id will be in the format of [email protected], where the unique id is ab10000001. Customers may use this id for sending the SMS for unbilled data usage checking.
Usage Value(UV) displayed in SMS will be the data usage upto
previous day, today's usage will be updated only on next day. Customer can get only the current month data usage of their BSNL WiMax account
through SMS.
Dear readers, how many of you are using BSNL 4G – WiMax? Whether this technology can be used as an alternative to ADSL Broadband / 3G Broadband? Please share your views with us.