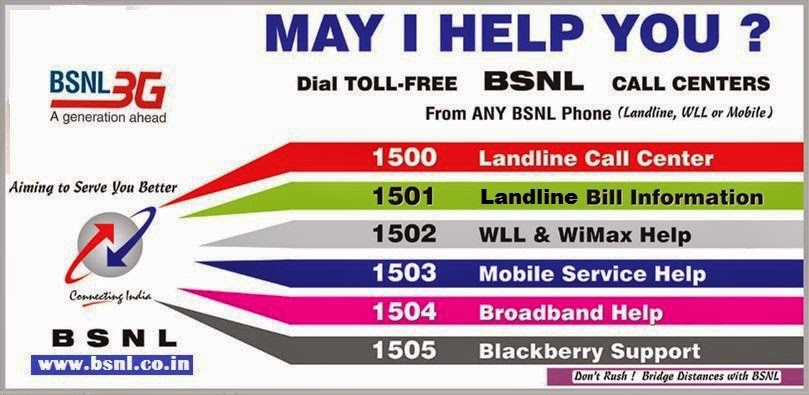 The importance of customer service is very much in the telecom industry as it may enhance Customer satisfaction level to a great extent. These Toll Free Numbers are really helpful in extending the services to BSNL customers in a convenient manner.

These call centers are accessible from every nook & corner of the country in a uniform manner for Landline, CDMA, Broadband and Mobile Services. BSNL Subscribers can access 24*7 toll free numbers for lodging complaints related with their new / existing connections.

BSNL Customer Care Toll Free Numbers for Landline, Broadband & Mobile Services
Service Category
Toll Free Customer Care Number (from BSNL Network)
Toll Free Customer Care Number (from Any Network)
BSNL Landline
198 / 1500
1800 345 1500
BSNL Landline Bill Information
1501
1800 180 1501
BSNL CDMA
1502
1800 180 1502
BSNL GSM Mobile
1503
1800 180 1503
BSNL Broadband
198 / 1504
1800 180 1504
BSNL Blackberry Services
1505 ( BSNL decided to merge 1505 with 1503 & 1505 will be closed soon )
1800 180 1505
BSNL MPLS & Other Data Services
1800 425 1957
These above mentioned BSNL Customer Care Numbers are common for all the customers of all the States / BSNL circles across India. For those who were not satisfied / solved their pending issues with customer services, he / she can book an online complaint to reach to BSNL higher authorities with BSNL online complaint portal.
BSNL is also planning to merge its Blackberry Support Toll Free Number 1505 with 1503. The service available on Toll Free Nmber 1505 will be available on 1503 and the existing number 1505 will be closed soon.
BSNL is always in the media for their poor Customer Complaint / management system. Whether these Call Centres are really helping BSNL customers to resolve their issues? How many of you have problems in connecting to BSNL Customer Care Executive through these Toll Free Numbers?