Online / SMS registration for BSNL Services is very simple and easy. The detailed procedure is given below. We may follow either Option 1 (Online Booking) or Option 2 (SMS Booking). BSNL Sales team members will come to your Door Step to collect documents and provide BSNL Services.

Option 1: Simply Fill and Submit the Details via Online Form
Selelect your Circle, Then your District , Feed the details like Name mobile number/email/Land line number if exists.




Select the service which you want to apply, you can avail any BSNL service listed in the site, you can also apply for BSNL Data Card, EVDO, FTTH, WLL, Landline + Broadband etc.




Then Go for selection of BSNL Broadband Plan which suits to your requirement considering your Data and Voice Consumption.




Give the Details of your District / Area Pin Code to identify your area and assign concern person who can identity your location.




Select the Time Slot which is comfortable to you.




And Finally click Submit button and wait for a message and with in 48 hrs you will receive a call from BSNL agents.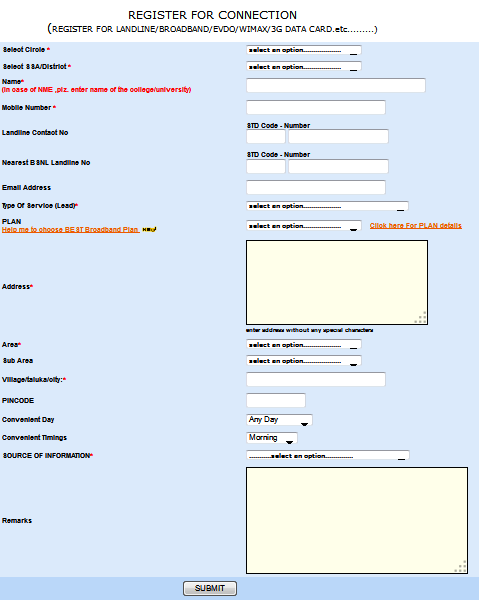 Option 2: Send SMS in the following format to 54141 ( from BSNL mobile) or to 9400054141 (from any other operators)
LL

for Only

Landline

Connection.
BB

for Only

Broadband

Connection on existing Landline.
LL + BB

for

New LANDLINE & BROADBAND

Connection.
OTHERS

for any other like EVDO, WIMAX, 3G DATA Card etc…Ex:-Send

LL+BB to 54141

for New Landline with Broadband
This is really a customer friendly move by BSNL in providing Online / SMS provision to register for services. Now a days everyone prefers online transactions and this facility will certainly attract more attention among people. Let us see how many private operators will follow the path laid by BSNL in online registration of services.