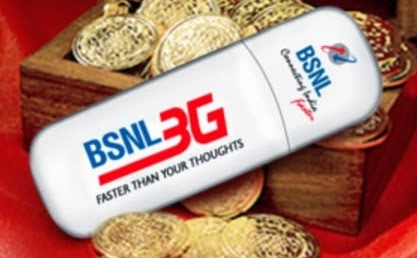 Unlike other private operators, BSNL has made all 3G Data plans / offers common to both Datacard and Mobile data users. There are plans which offers Free Datacards with certain 3G Data Plans. These Free Datacard offers are available in Prepaid and Postpaid.
BSNL offers Datacards / Netsetters having different data transfer speed and it includes Datacards having speed – 3.6Mbps, 7.2Mbps & 14.4 Mbps
.
Now let us see the selling price of these 3G Datacards from BSNL.
Sale Price of BSNL 3G / 2G Datacard (Netsetter)

| | | |
| --- | --- | --- |
| Sl No | Particulars | Sale Price (Exclusive of 5% VAT) |
| 1 | 3.6 Mbps Datacard | Rs.1600 |
| 2 | 7.2 Mbps Datacard | Rs.2000 |
| 3 | 14.4 Mbps Datacard | Rs.2500 |
BSNL Free Datacard Offers bundled with Annual Data Plans.

3G / 2G Annual Data Plans – Prepaid
After the free data usage available with Plan Voucher, we may activate any other Data STV or any of the available Annual Data Plan Vouchers ( 1251 / 2299 / 3299 ).
How to know the Data Balance : Just dial *124*1# Or send sms -STVENQ to 123.
If
we activate new data stv having same MRP within the valaidity period of existing data
stv, the balance data in the old stv will be carried forward.
To
extend the validity of Annual Data Plans, we may use any one of the
available 3G Annual Data Plan Vouchers ( 1251 / 2299 / 3299 ).
3G / 2G Annual Data Plans – Postpaid
Premature closure is not allowed in these Annual Data Plans.
No refund will be given for pre-mature closure.
3G Datacard Prepaid Plan having 1 Year Validity: Datacard Plan-96
Sl
No
Particulars
Sale Price (Exclusive of 5% VAT)
1
MRP of FRC ( First Recharge Coupon)
Rs.96
2
Free Data Usage
0.5 GB to be used within 30 Days from the date of
activation
3
Validity
1 Year
4
Applicability
Any data plan with sale of BSNL data card or any of
the
BSNL bundled data card
5
Base Voice Tariff plan
As per prepaid PER MINUTE Plan
We may use any of the available Prepaid 3G/2G Data STVs in Datacard Plan-96 as per our choice.
To extend the validity of Datacard Plan-96, just recharge 96 and avail 0.5 GB Data for the first 30 days

+ 1 Year validity from the date of recharge.
Now we may look at the different 3G Data Offers in Prepaid & Postpaid Segments.
In short, we may see that these offers from BSNL are the most economical & cheapest offers in the current Indian Telecom market. How many of you are satisfied with BSNL 3G Data services? Whether the quality of service of BSNL 3G is comparable to other private operators?