WiMAX is a unique technology being deployed by BSNL for the first time in India. This technology provides fixed as well as fully mobile high speed wireless broadband connectivity along with roaming feature. It provides users a thrilling Internet browsing experience.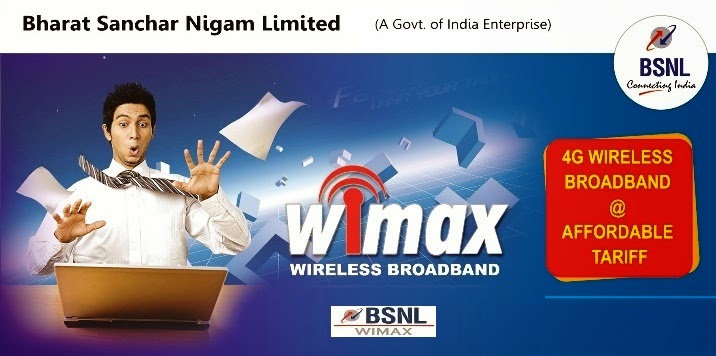 BSNL WiMAX (Worldwide Interoperability for Microwave Access) offers
most affordable Home and Business tariff plans having a choice to the customer for subscription in a simple way as per their usage.
BSNL brings the best broadband wireless access technology available anywhere in the world to your home and offices through WiMAX.
This technology is a few generations ahead of the present ones like EDGE, EVDO etc. BSNL has launched it's Broadband wireless services on WiMAX platform for internet access in all important cities / towns.
Connecting to BSNL 4G (WiMAX):
BSNL offers large variety of Customer Premises Equipments (CPE) including Outdoor, Indoor and USB dongles from which customers can choose as per their application requirements.
Indoor CPE : Best suited for Home/Office users. Can be used in moving vehicle also

Dongle : Small Dongle can be connected directly to PC / Laptop via USB port.
Outdoor : Suitable for remote and rural areas. Can be used upto 15 Km distance (Line of sight) from BTS site.
CPE Charges:
Security Deposit for WiMAX CPE

:

Rs.1000/-

where CPE taken on Rent

(

Uniform Rates for all CPEs – Indoor, Outdoor, USB Dongle)
Sale Price of CPE :

Rs.1500/- (Uniform Rates for all CPEs – Indoor, Outdoor, USB Dongle)
Unique Features of BSNL WiMAX
World's latest Wireless Broadband technology
Data Download/Upload at very high speed upto 2Mbps
Very low cost and low starting tariff
Wide range of User friendly plans
Suitable for Leased Lines,

VPN Services &

Web based Video Conferencing
Latest WiMax Tariff Plans ( Home / Business)
Dear readers, have you ever used BSNL WiMax? Whether it is stable for Business purposes? Please share your views with us.