To facilitate customer convenience, Bharat Sanchar Nigam Limited (BSNL) has decided to launch an Interactive Online System / Portal through which a customer can register his request for Post-paid Services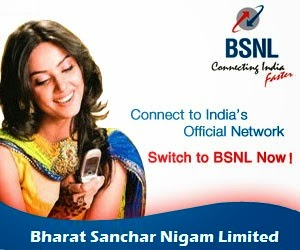 Through

this online portal, customers can register / book services like

Toll Free Numbers, UAN Full Charge / Split charge and also make required advance payments and upload the necessary documents.


The main features of this system shall be as follows:


1. A customer should be able to register / book his request for Toll Free number, UAN Full charge
and UAN split charge service.
All the available inventory of spare Toll Free numbers and UAN Full Chargel Split

Charge numbers, at any point of time' should be made available on the new portal,

so that any new potential

customer is able to see the availability of spare IN numbers based on which he could

choose the suitable number as per his interest.
A customer should be allowed to submit / upload the necessary documents as per the

application forms online. Signed copy, if required, may be called within a specified time
2. A customer should be shown all the applicable charges on the portal which should include the
advance charges, tariff, vanity number charges and discounts etc.
3. After the booking is completed by the customer, the portal should calculate total advance charges to be collected from customer through online payment mechanism of portal and should
4. The portal should be able to accept such customer payments through online payment
mechanism. The requirement of customer as per his booking on the portal, uploaded
documents and payments made shall be examined by officials at one central place.
5. If all the formalities are found complete in commercial / finance aspects the finance /
officials will authorize the technical officials to open the numbers as per the request. If it is not
so the customer shall be asked to complete the pending formalities by sending a mail.
The objective of this online booking system is to ideally opernationalize the service to Post

Paid IN Customer within a few working hours of request and possibly the same day, so customer gets the advantage of fast activation of service.
Dear readers, whether this new online portal will help customers in a great way? Have you used any other Online Portal of BSNL? Please share your views with us.