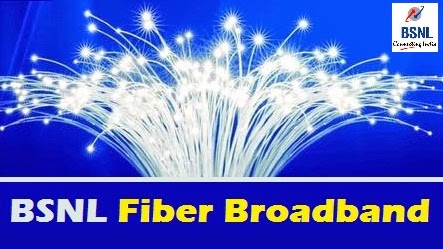 BSNL FTTH Voice Only Facility is now available as a regular Plan for all Fiber Customers. BSNL offers high speed broadband internet having speed upto 100Mbps over FTTH.
In order to promote Fiber to the Home (FTTH) Services, BSNL has decided to offer Voice Only Facility on FTTH as regular basis with a minimum Fixed Monthly Charges commitment with any BSNL Landline Plan having FMC of Rs. 195/- and above with the following conditions.
BSNL FTTH Connections with Voice Only, shall not be more than 20% of the total FTTH capacity in the city.
BSNL FTTH Connections with Voice Only shall be provided at the places where ever telecom services are not feasible on Copper Network.
No Free Calls shall be offered on the FTTH connection having Voice only facility with FMC as Rs. 195/-, and the charges for the calls made under this plan shall be Rs. 1.20/- per MCU on any network (i.e. both on On-Net as well as Off-Net).
This new regularized plan Voice Only Facility for Fiber to Home Customers shall be applicable for all new & existing customers of FTTH (Fiber to the Home) Services of all BSNL circles with effect from 16th October 2014.
Dear readers, have you ever experienced BSNL Fiber Broadband Service? Please share your views with us.