Many BSNL Customers ( Prepaid and Postpaid ) are in confusion about the high speed 3G Data services through their existing / old / 2G SIM. Now BSNL has clarified that, all its mobile customers are given access to their 3G network by default.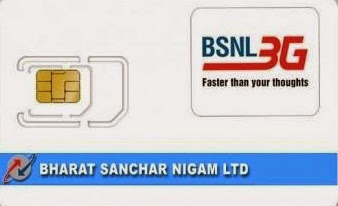 BSNL has already migrated all the existing 2G Data subscribers to 3G Data Services with no speed restriction for Internet. All BSNL customers can enjoy 3G internet in all the 3G coverage areas irrespective of their plan or type of SIM card.
BSNL is the only operator in India, who provides PAN
India 3G service with Free Data Roaming to its Prepaid and Postpaid
customers.
In-short, the clarification regarding 3G SIM cards are given below:
All BSNL SIMs are 3G SIMs. BSNL has already migrated all Prepaid and Postpaid mobile customers as 3G users.
All BSNL SIMs (Old 2G SIMs) having memory of 16K, 32K, 64K, 128K or 256K can be used to access high speed 3G Data. The SIM with memory capacity of 128K or 256K are needed in few cases where the use of SIM is required to be made for M2M kind of communication which needs large size of application to reside inside SIM Memory.
Now, all BSNL mobile customers can enjoy 3G data speed if they are in 3G Coverage area, even they use their old 2G SIM Card.
BSNL has already providing PAN India 3G Service with Free Data Roaming, and that too at the lowest rates, which helps the customer to download and surf the internet with high speed data without any restriction in Home area or in Roaming across the country.
Dear readers, have you ever faced the problem of slow 3G data speed with your old BSNL SIM card? Whether the problem was resolved by replacing the old SIM with 3G SIM card? Please share your experiences with us.