State run PSU, Bharat Sanchar Nigam Limited

(BSNL), launched an Online Grievance Registration Portal which allows its customers
to register their long pending complaints

of Mobile, Broadband, Landline, WiMAX , 3G etc. The complaints registered through this Online Public Grievance Portal will be monitored centrally from BSNL Corporate Office, New Delhi and will be solved in a time bound manner.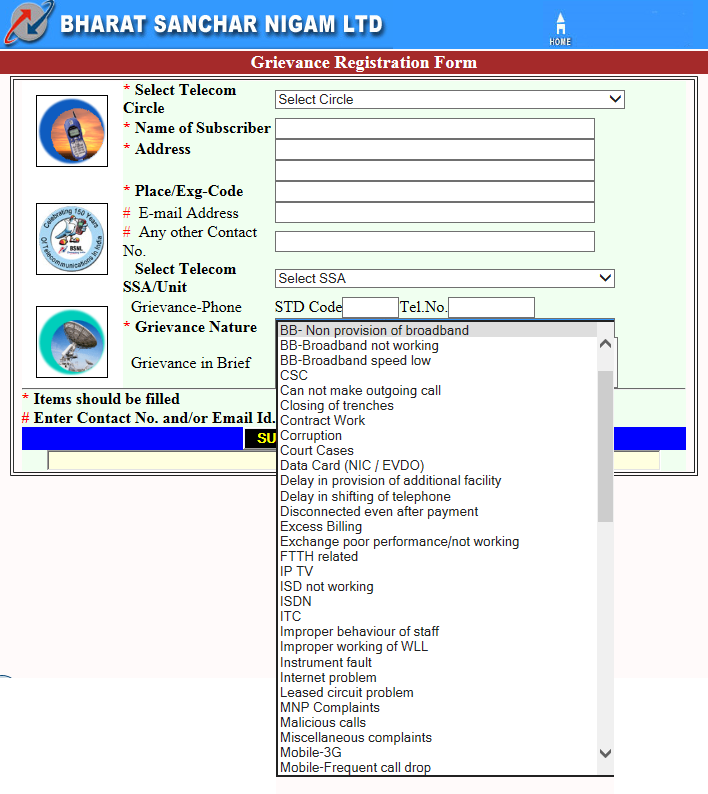 The Online portal is very simple and complaint registration process is very easy. We may register all types of complaints related to BSNL & BSNL Services.
Customers can lodge their complaints related to Landline, Mobile, Broadband, WiMAX, 3G, VAS related complaints, MNP Complaints, Misbehavior by staff etc. through this online portal.
Initially, BSNL customer may book their complaints at BSNL Toll Free complaint numbers. (1500-Landline / 1502-WiMax, CDMA, EVDO / 1503-GSM Mobile / 1504-Broadband / 1505-Blackberry Services / 1506-ISD Complaints etc. as per complaint category)
If the complaint hasn't been resolved with the local authorities, BSNL customers may lodge their long pending complaints through this Public Grievance Portal.
BSNL Employees can also submit their grievances related to transfer / posting, pension, staff matters through this portal.
Complaint Booking Procedure through Online Complaint Portal
Booking of compliant on this BSNL Public Grievance Online Complaint Portal is simple and easy.
Open your web browser and just logon to BSNL Public Grievance Registration Form @ http://mis.bsnl.co.in/pgs/internet/pgwebregn.asp

Select Telecom Circle or State

Fill your details in requisite fields (Name, Address, Place, E-mail Address, Contact No, Telecom SSA/Unit, Grievance-Phone, Grievance Nature, Grievance / Problem in Brief), which is must, to reach to BSNL authorities and a contact with the customer.
After filling the details, just click on submit then you will get your unique complaint ID. Note down this ID, so that we may follow up the registered complaint in future.
How many of you have experienced difficulties in dealing with BSNL offices / Customer Care Centres ? Please share your experiences with us and register on this Online Portal to resolve your long pending complaints at the earliest.