National Telecom backbone Bharat Sanchar Nigham Limited (BSNL) has started Online Bill Payment / Online Recharge Portal with improved " Quick Pay " option. The online portal enables the customers for the payment of Postpaid bills of BSNL Landline, Broadband, FTTH (Fibre to the Home), GSM, WiMAX, Corporate and DID customers. Prepaid customers may recharge or top up their accounts from any where in the world.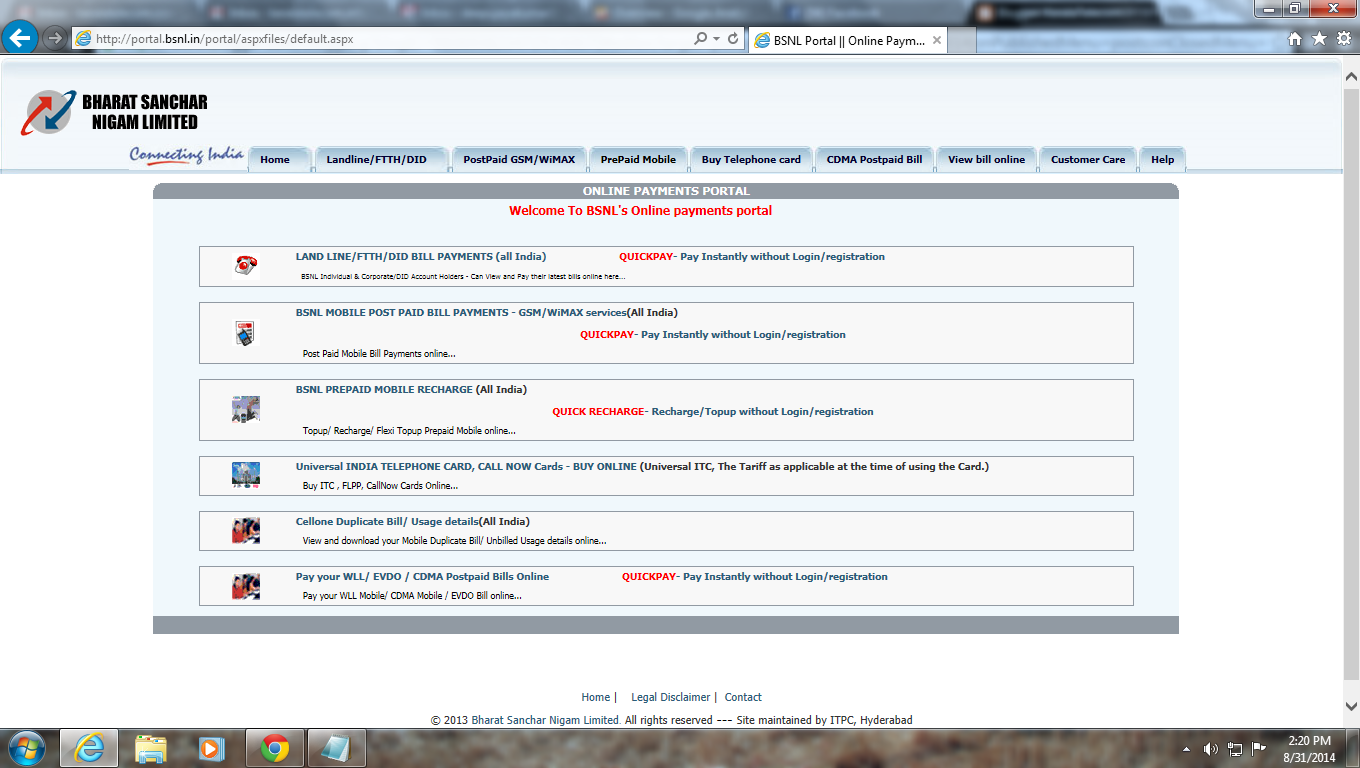 The following video describes how to Pay your BSNL Landline/Broadband Bill through Online Portal through registered portal account.
BSNL Customers of all the Circles can avail this facility. Customers can now pay their Landline / Mobile / WiMAX postpaid bills even after Pay By Date through BSNL Online Bill Payment Portal. Customers can update their Mobile Number and Subscribe for SMS Alerts.
Initially, Online payment through portal was available only for Registered customers. Now, BSNL Customers can instantly pay their bills without Login/Registration through BSNL "QUICK PAY" option. Customers will receive Payment details in his/her given Mobile number and Payment receipt will be sent to his/her given e-mail id provided at the time of payment.
Payment through "Quick Pay" option can be done by just submitting the Account Number, Mobile Number, E-mail address, and Circle in the Online Portal.
Online Portal can be used for the following :
BSNL Online Portal – Payment Procedure :
Enter into the BSNL QUICK PAY Online bill Payment Portal

Select the desired tab – Landline / Mobile / Recharge

Enter Telephone number with STD code (0471-2XXXXXXX) in Pay For Phone Number

Enter the Captcha code

Customer will get the details of Bill and Payment Options

Enter Mobile Number (Payment details will be sent to this Mobile number)

Enter E-mail address (Payment receipt will be sent to this Mail-id)

Then select the desired payment option and Click on Submit

and

Select the Option for

All Credit cards / Debit cards / Internet banking / Cash cards /

TRUST Cash Card

Then the customer has login into the payment gateway for authorizing payment

On successful completion of payment of bill, user is re-directed to view the 'Digital RECEIPT DETAILS(Receipt Number, Transaction No, Bill Number, Bill Date, Bill Pay by Date, Unique ID, Telephone Number, Bank Transaction ID, Bill Paid Amt, Bill Paid Date) for bill paid.
How to Register Portal Payment / Recharge Complaints ?
Note:
There is a possibility of link getting disconnected, during returning from the BANK after successful Bill Payment. In that case, user will not be able to see the 'Digital Receipt' of the Bill Payment made since the Portal system will not know the details of the transaction made. If this occurs, PLEASE DO NOT ATTEMPT to pay the bill again.

The portal system, will shortly, receive the confirmation from the BANK, through alternative backup channel and the receipt will be sent to user registered email id. In case previous bill amount had already been paid and not updated in portal please visit nearest BSNL cash counter to pay the current bill amount or else pay the total amount and excess paid amount would be automatically adjusted in next bill.

If any complaints with Online Portal transactions an email may be sent to [email protected].

For Detailed billing information and clarifications regarding billing dial 1500 or 1800-180-1500