National Telecom backbone and

State run PSU, Bharat Sanchar Nigam Limited

(BSNL), today announced Free Calls & Free SMS offers to the flood affected Srinagar area. In order to extend helping hand to stranded people and also to facilitate relief operations during natural calamity being faced in the Srinagar area, BSNL has decided to allow free calls (Local as well as STD Calls) and Free SMS service to all those BSNL customers who will be using BSNL's mobile network in the Srinagar area.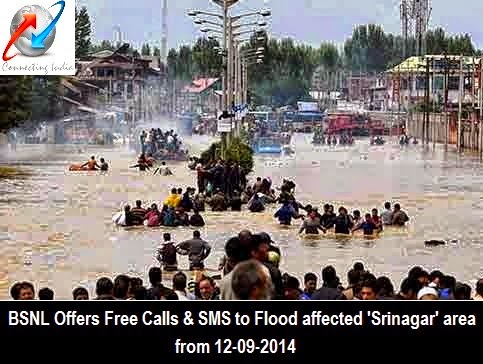 BSNL authorities informed that, required configurations in the switching systems have already been completed yesterday night. This Free calls and Free SMS facility should continue for 10 days from today ( from 12 September 2014 to 21 September 2014 ).
Further, there shall be no incoming / outgoing barring for postpaid customers for a period of one month. However customer going above 500% threshold limits will be separately monitored by BSNL.
The above arrangement will enable stranded BSNL customers of the affected area as well
as rescue teams from Northern Zone area to communicate without depleting their balance or bothering for usage charge.
Readers, what do you think about this generous move by BSNL? Will this really help those flood affected people in Srinagar? Please share your views and opinions with us.