India's No.1 Broadband Service Provider

Bharat Sanchar Nigam Limited (

BSNL) launched Broadband / Landline Selfcare Portal for its customers. Through Selfcare Portal, customers can subscribe to / modify any of its Landline / Broadband services from their homes without reaching the BSNL Offices or Customer Care Centres.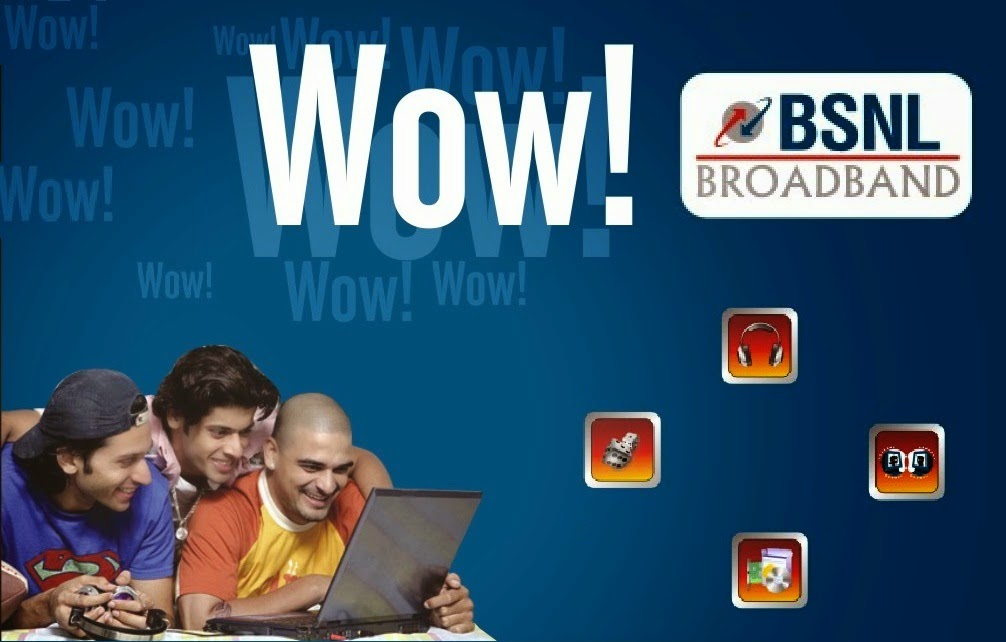 Web self care portal is available to all BSNL Landline / Broadband customers in India. Customers can avail the following facilities through Web Self care Portal.
Check the Status of a Service Request

Submit Request for changes to your profile

Check Status for changes to your profile

Check Order Status

Check Bills

Check Payments

Apply for New Phone Connection

Change Broadband Password

Check Broadband Billed Usage Details

Check Broadband Unbilled Usage Details

Check My Call details

Check My Unbilled Call details

Submit Loyalty Redemption Request

Check My Loyalty History etc.
BSNL Selfcare Portal Customer Registration Procedure:
Selfcare Portal services are available to all BSNL customers according to their telecom zone.
1. Visit BSNL Self Care Portal, as per their telecom zone.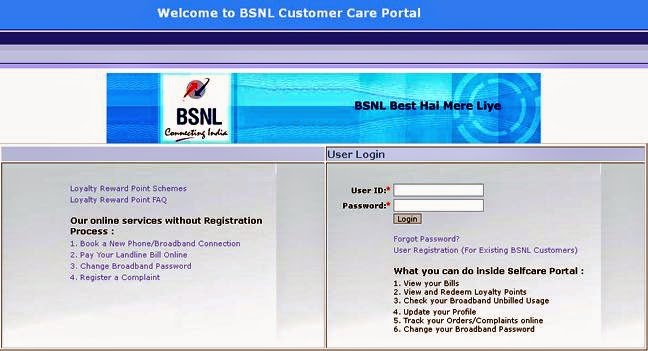 2. Customers have to register in the self care portal (one time registration process) by submitting the details such as :
Customer Id / Unique Id :

(Customer Id as printed in your Landline / Broadband Bill)

User ID:

( The desired User ID )

Password:

( The desired Password )

Challenge Question (To be used when you forget your password):

Answer to Challenge Question (To be used when you forget your password):

Email:

( Your e-mail ID )

Do you have Broadband:

( Yes / No )

BB User Id:

(Broadband User ID as printed in your Landline / Broadband Bill )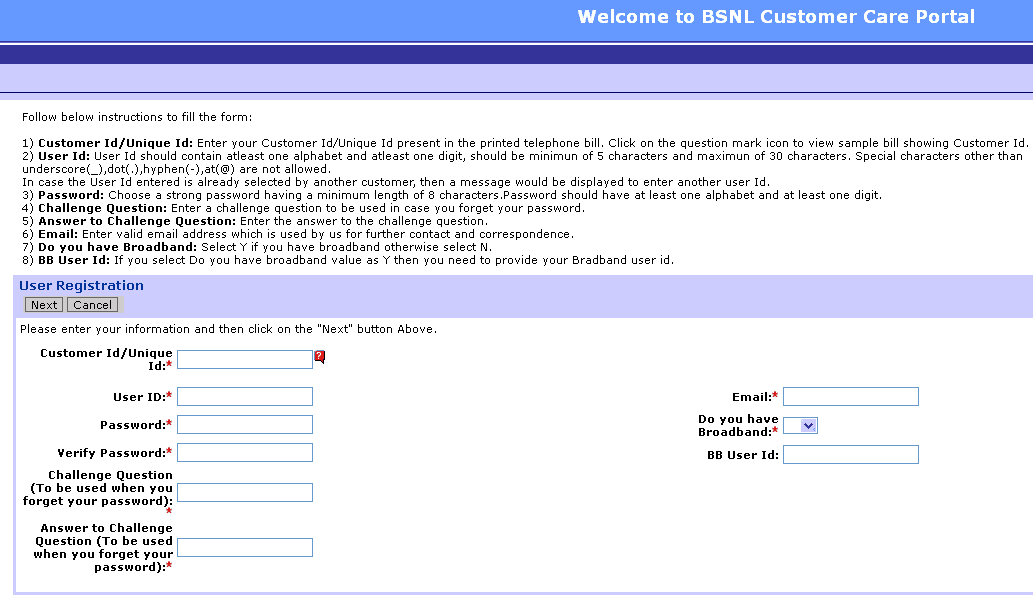 Please provide the information as printed in your Landline / Broadband bill. Customer ID / Unique ID and other parameters are clearly printed in your latest bill. BSNL Broadband customers are advised to proceed the registration with "Do you have Broadband – with Y option" along with Broadband user id for instant validation and confirmation to use the service. If the customer is having Landline connection without broadband, BSNL executive will validate the request by calling the customer and then confirmation will be given.
BSNL Selfcare Portal – Customer Usage Checking Procedure:
After Successful Login into selfcare portal, "Home Page" will be displayed where all your currently availed / activated services will be listed.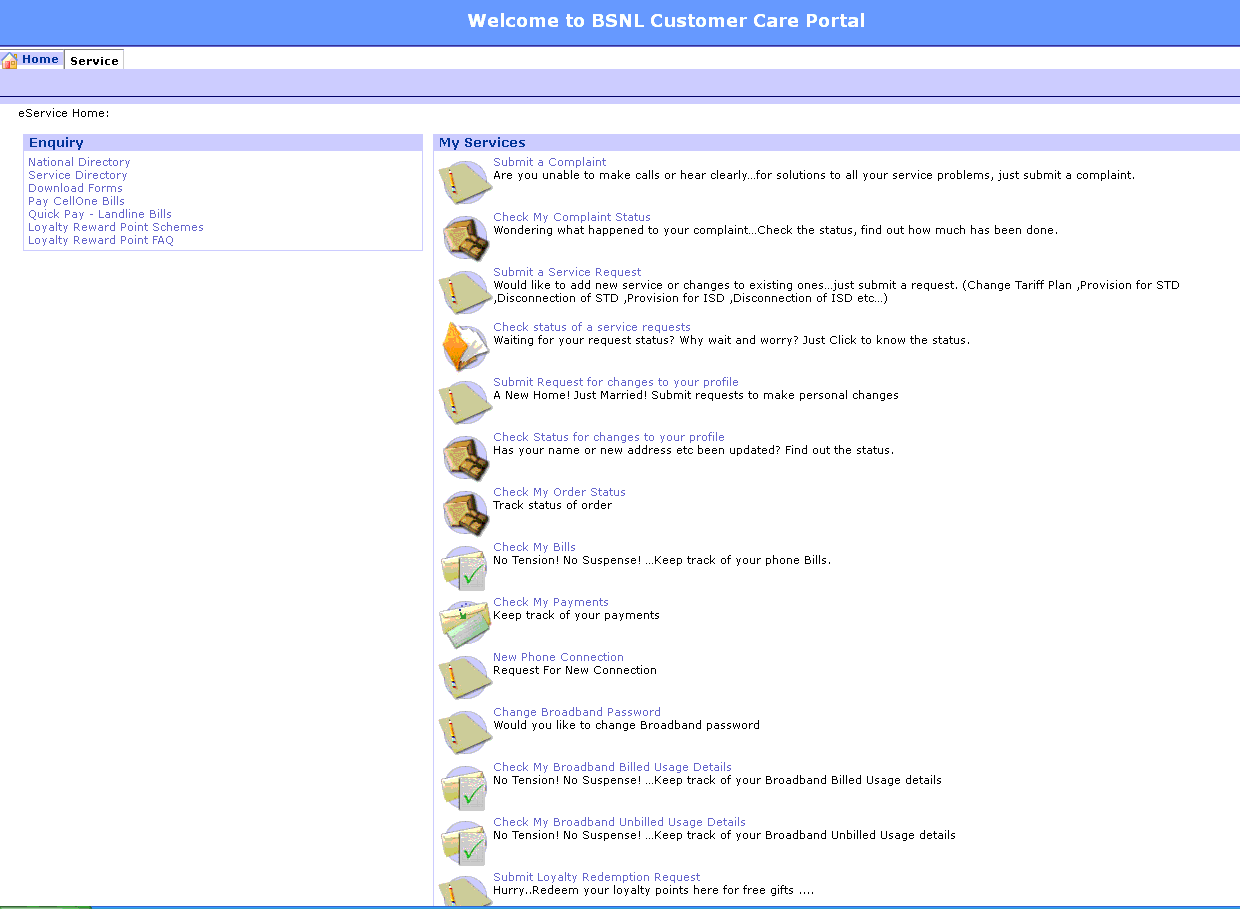 For submitting our service requests or further information we may select the ' Service ' tab on the left upper corner of the page. Then it will display all the services at right side of the page under ' My Services ' tab and customers can make the requests of any BSNL Broadband or Landline Plans of their choice from a list of available options. After selecting the appropriate plan, just click on submit to forward your request to the BSNL authorities.
We may check the status of the Broadband or Landline plan change through the Web self care portal after submitting the request. Customers who paid their Landline / Broadband bills through online portal or BSNL counters can also check the status of payment. We may register our broadband / landline complaints also.
Important Note:
For resetting the Selfcare portal password of a registered user, use the ' Forgot password ' link provided in the portal or dial 12678 from any BSNL landline or 'STD code +12678' from any mobile.
How many of you are currently using 'BSNL Broadband' for internet access ? Are you satisfied with its speed / performance and tariff plans ? Have you registered in the 'Web Selfcare Portal' ? Please share your experiences with us and all our readers.