State run PSU, Bharat Sanchar Nigam Limited (BSNL), is the No.1 Broadband Service Provider in India.  Most of us will be using BSNL Broadband service in our home or in our offices. As compared to all other broadband service providers in India, BSNL provides services to almost all rural and remote areas of our country. The broadband tariff plans offered by BSNL is also very cheap and affordable to ordinary people.
The following video describes some general instructions and connection diagnosis for BSNL ADSL broadband.
We should be careful while connecting our Broadband modem and telephone instrument. Always connect ADSL Splitter directly on the telephone line and then connect Modem and Telephone Instrument as shown in diagram below. Never connect ADSL Splitter on the extension line.
How to Connect your Broadband Modem & Telephone Instrument ???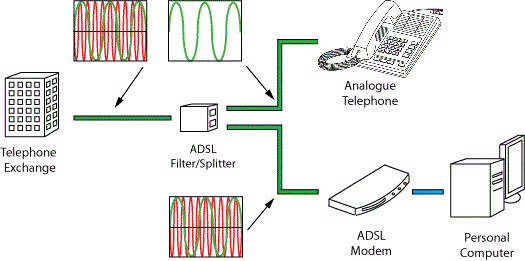 In short, BSNL Broadband Error Numbers and its Solutions are given below : 
Problem / Error Number

Description

Remedy

 

This is most common problems. It is due to poor connectivity.

Switch off / Switch on Modem (Power Switch at the back of modem) and wait for 2 minutes. Then retry.

If problem is still not solved then

Check link lamp in Black type Modem or WAN lamp in White Modem. If it is blinking, then it is line problem.
Check Modem to splitter connectivity.
Remove & Connect the cable of / to the modem and to the splitter
Remove & Connect the telephone connection of the splitter.

If lamp is still blinking – then it is due to poor line condition / fault. Call lineman for line change.

Check for Virus in your Laptop / PC.
Disable Firewall in your Laptop / PC.
Reinstall Operating System

Error- 691

User id and Password problem.

Enter correct username and password spellings as details are case sensitive.

If problem is still not solved then

Make new Dialer & Dial
Call Broadband Help Desk for resetting password. ( Call 12678 from your Landline Or STD Code + 12678 from your Mobile )

Error- 769

LAN not enabled.

The LAN Card has to be enabled by following the steps given below.

Go to Desktop.
Right Click "My Network Place".
Click Select Properties.
Right click on LAN Icon Click "Enable the local network".

If using USB cable then Install Modem's USB Cable Driver.

Error- 797

Modem or LAN driver problem

Check computer LAN Card driver or Modem connectivity.
Check for Viruses or corrupt TCP/IP Files

Error- 718

This problem occurs if loading is high on the system and number of customers exceed the call handling capacity of system.

Error – 630-633

Computer LAN Card problem.

LAN Card has to be changed.

Error- Limited or No Connectivity

IP Address Problem

Give Correct IP Address to LAN card

Error- 735

Dialer problem

Make New Dialer.

Error – 720

Dialer or Virus problem

Make New Dialer

Check for Virus in your PC..

Reinstall Windows

Error- 676

Modem Configuration problem

Give Correct IP Address to LAN card





Change PVC 0/35 to Bridge Mode instead of PPPOE mode
Broadband IP Addresses for LAN

Following IP addresses should be used if Modem is provided by BSNL. Private Modems may have different IP Addresses which will be printed on the device catalog.
IP Address – 192.168.1.2 to 250 

(may be given 2,3, 4,……248 or 249 upto 250)

Subnet Mask – 255.255.255.0

Default gateway – 192.168.1.1

Default DNS Address – 192.168.1.1

(Better use Google DNS Addresses – 8.8.8.8 or 4.2.2.4 or 4.4.4.4)
Broadband Modem Diagnostic Checks 
After switch ON wait for 2 to 3 minutes to get the modem stable.

If telephone line / dial tone problem, complaint should be booked.

If Broadband / Internet not working, complaint should be booked.

To register your Landline Complaint, dial 198 from any BSNL landline or 1800-345-1500 any mobile.